Labor Department today: People on state & federal unemployment insurance jumped to 31.5 million, worst ever.
Bureau of Labor Statistics today: 4.8 million jobs created, unemployment dropped by 3.2 million.
BLS under-reported unemployment by 13.7 million, based on data from the Labor Department. What's happening is infuriating. Read and cringe.
Normally, the jobs report by the Bureau of Labor Statistics is released on the first Friday of the month. And the unemployment claims report is released Thursday every week. But this month, the monthly jobs report was also released today because of the 4th of July weekend. And now we have this delicious situation of both reports on the same day, with the Labor Department's unemployment insurance data – people who are actually receiving unemployment benefits under state and federal programs – calling the Bureau of Labor Statistics' survey-based report a liar. And we'll go through them.
What the Labor Department reported today:
The total number of people who continued to receive unemployment compensation in the week ended June 27 under all state and federal unemployment insurance programs, including gig workers, surged by 937,810 people in the week, to 31.49 million (not seasonally adjusted), the highest and worst and most gut-wrenching ever: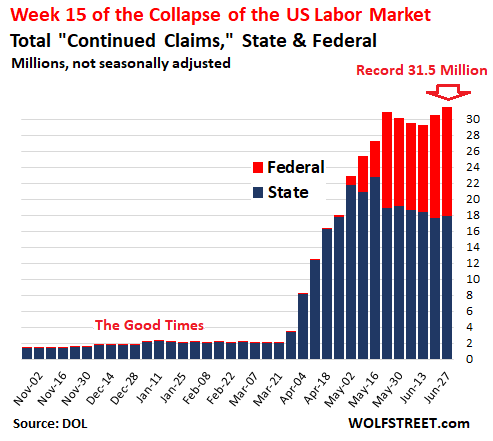 The number of people receiving state unemployment insurance (blue columns in the chart above) has essentially been flat for three weeks (it ticked up this week), as many people got their jobs back while many other people were newly laid off. But the number of people on federal unemployment programs, including gig workers (red columns), has been soaring.
What the Bureau of Labor Statistics reported today:
…click on the above link to read the rest of the article…