Entire market of 3,451 stocks minus "Giant 5" is down 1% from Jan 2018. But wow, the volatility! You would have been better off with a despicable freaking savings account.
The market capitalization of the five largest stocks combined – the "Giant 5:" Apple, Microsoft, Amazon, Alphabet, and Facebook – rose to a new record today of $6.18 trillion. Since their combined low point on March 16, their market capitalization has soared by 51%. That's an increase of $2.1 trillion in a little over three months. Since January 2017, my Giant 5 index has soared by 164% (market cap data via YCharts):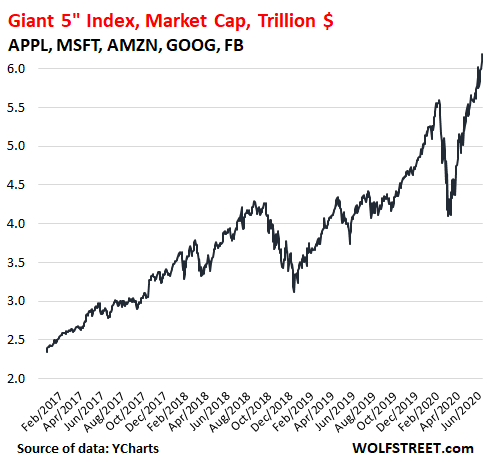 So how big did they get?
The overall stock market capitalization, as measured by the Wilshire 5000 Market Cap Index tracking 3,451 US-listed companies, ticked up to $31.8 trillion, up by 41.6% from its low on March 23.
Today, the "Giant 5" accounted for 19.4% of the total US stock market capitalization, as measured by the Wilshire 5000, a new record. On January 3, 2017, the Giant 5 had accounted for 10% of the Wilshire 5000. In the three months since the crash in March, the share of the Giant 5 has soared from abound 16% to 19.4% today (Wilshire 5000 data via YCharts):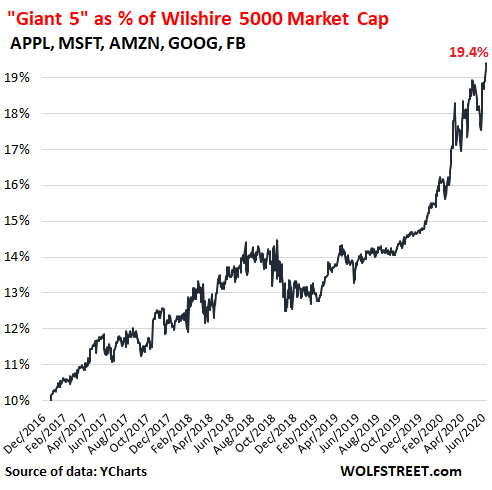 But wait… Performance of Wilshire 5000 without "Giant 5."
Let's take the five largest stocks out of the largest stock market in the world, with 3,451 companies, and see what's left over. What's left over is now valued at $25.7 trillion. It's up by 28.4% from the March 23 low, and while that's till strong for a three-month rally, it's a far cry from the 51% for the Giant 5.
And here is the thing: All these companies combined, minus the "Giant 5," are way below their peak in February 2020, and below a whole bunch of other dates before then, and below where they'd first been in at the end of January 2018.
…click on the above link to read the rest of the article…