First the Global Financial Crisis, then the Euro Debt Crisis, now the Big One.
In its 21 years of official existence, the Eurozone has already been through two brutal crises — the Global Financial Crisis and one of its own doing, the Euro Debt Crisis — that nearly tore the bloc apart. Now, it is in the grip of another one that is already exacting a larger toll than the first two, despite having barely begun.
The preliminary GDP in the first quarter for the Eurozone, GDP fell by 3.8%, according to Eurostat's flash estimates (for the entire EU, it fell by 3.5%), "the sharpest declines observed since the time series started in 1995," Eurostat said. This is despite the fact that most of the region's lockdowns did not begin until mid-March: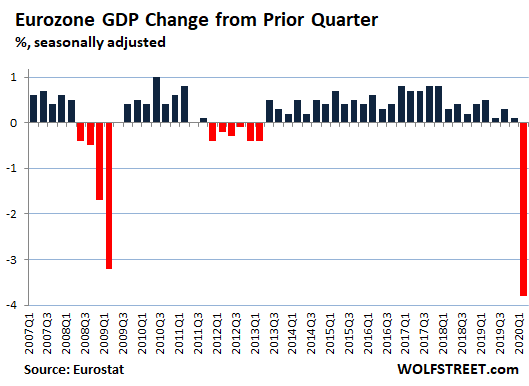 All things considered, the Euro Area's biggest economy, Germany, got off relatively lightly. It shrank by just (!!) 2.2% compared to the previous quarter. It was still its biggest contraction since the the Global Financial Crisis, more than a decade ago. German industrial production was particularly hard hit, tumbling by 11.6% year-on-year in March, when the lockdown forced factories to close. In Q4 2019, Germany's GDP growth rate was already negative (-0.1%).
But many other Euro Area countries fared a lot worse. Of the four worst performing economies, three are the bloc's second, third and fourth largest, France, Italy and Spain, which between them account for almost 45% of Euro Area GDP. The other was Slovakia. Spain, Italy and France suffered more cases of Covid-19 and resulting fatalities than any other countries in the Euro Area. They also imposed the most draconian lockdowns. The impact on their economies has been brutal.
…click on the above link to read the rest of the article…