Two weeks ago, we wrote that with 1.7 billion people in the world under quarantine (a number which has since ballooned to over 3 billion) and "desperate to find out where on the coronavirus "curve" they are to calculate how much more pain there is, JPM made an attempt at a (very nonscientific) visual representation of where on the curve the main covid outbreaks in the world currently stand." Additionally, this is how we laid out the good/not so good/bad news as of March 24:
The good news, China has is now well into the recovery phase, although since any and every number out of China is a lie, we would ignore any reports that the covid pandemic in China is easing especially after a spate of recent indications that China is openly manipulating its infection numbers. Also good news: Korea is almost "over the hump", and absent new clusters emerging in the next few days, should be in recovery.
The not so good news: both Italy and Iran are in the "late accumulation" phase. If they fail to halt the breakout at this point as the recovery phase approaches, it will get very ugly as much of the local population could then be infected. Behind Italy and Iran is the rest of Europe, with Spain, Germany, France, the UK all in the acceleration phase. The onus in on them to execute successful lockdowns.
Finally, the bad news: both the US and India are at the very start of the curve and things will get much uglier in the coming weeks before they get better.
Long story, short, this is what the global "corona curve" looked as of March 24.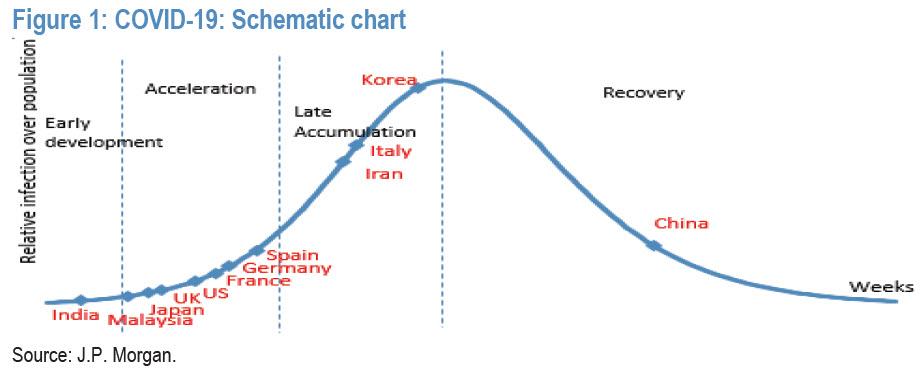 …click on the above link to read the rest of the article…