Acting White House Chief of Staff Mick Mulvaney said on Friday that the coronavirus is likely to cause disruptions to every day life – including likely school closures and changes to public transportation.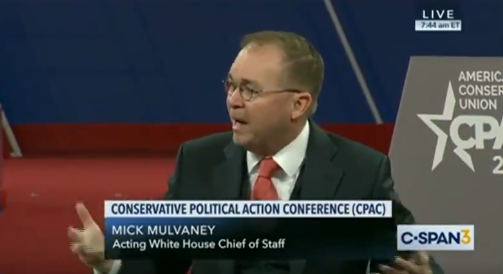 "Are you going to see some schools shut down? Probably. Maybe see impacts on public transportation? Sure, but we do this. We know how to handle this," Mulvaley said while speaking at the Conservative Political Action Conference (CPAC) outside of Washington on Friday.
Mulvaney also slammed the media for painting a narrative that the Trump administration is "scrambling" to contain the virus, noting that he briefed Congress along with top health officials six weeks ago. He accused the media of ignoring coronavirus until now, according to The Hill.
Why didn't you hear about it?" Mulvaney asked the audience while sitting down with Heritage Foundation economist Stephen Moore. "The press was covering their hoax of the day because they thought it would bring down the president."
"Is it real? It absolutely is real," Mulvaney said. "But you saw the president the other day — the flu is real."
---

Acting White House Chief of Staff Mick Mulvaney: "What I might do today to calm the markets is tell people to turn their televisions off for 24 hours…This is not Ebola. It's not SARS. It's not MERS
." #coronavirus #CPAC2020

Full video here: https://cs.pn/2wafM5l 
---