President Trump told a crowd of steelworkers in Illinois in July 2018 that "After years of shutdowns and cutbacks today the blast furnace here in Granite City is blazing bright, workers are back on the job and we are once again pouring new American steel into the spine of our country."
While US Steel's Granite City might be operational for the time being, the steel producer has just announced it will shut down a "significant portion" of its Great Lakes Works facility, slash its dividend, terminate 80% of its share buyback program, and layoff 1,500 workers.
Great Lakes Works is expected to halt operations by April 2020. The mill rolls slabs into sheets of steel and has been battered by the manufacturing recession and trade war. The facility laid off 200 workers earlier this year, with another 1,500 in the near term, reported 247 Wall Street.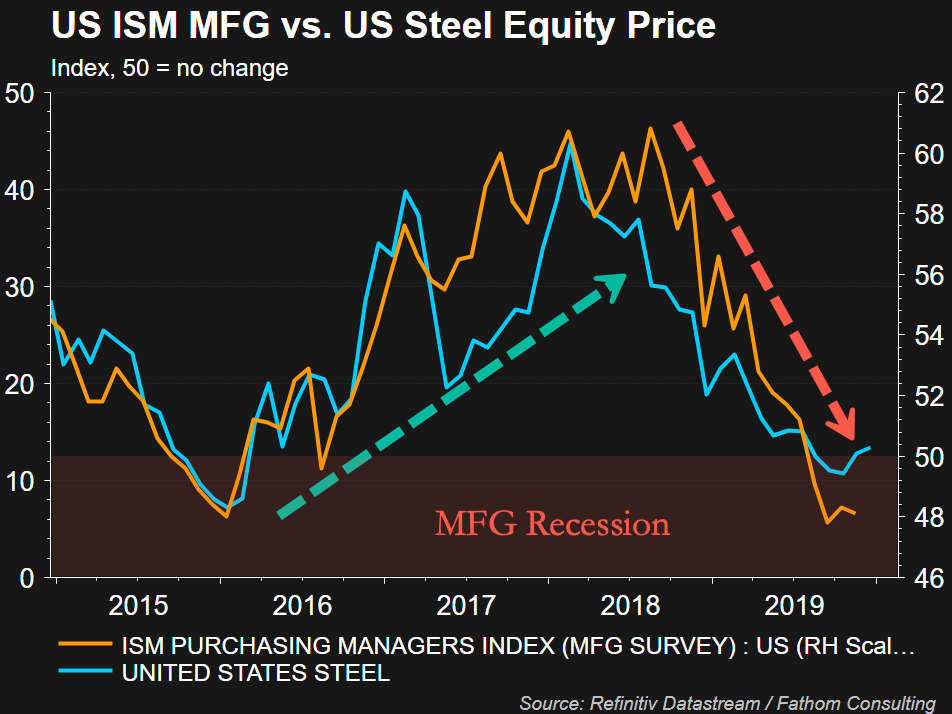 Boeing Considers Temporarily Halting 737 Max Production
The failed turn around of US Steel comes as the manufacturing recession shows limited signs of abating, forced the company to slash its dividends for 2020 from $.05 per share to $.01. At least 80% of its buyback program will be terminated in early 2020 – a measure to help the struggling steel company avoid bankruptcy.
The company will refocus its efforts at its Mon Valley Work facility in Pennsylvania, Big River Steel in Arkansas, and another in Gary, Indiana.
US Steel CEO David Burritt told investors on a call that "Acquiring the remaining stake in Big River Steel continues to be our top strategic priority."
Burritt also commented on the upcoming Great Lakes Works shutdown:
"[C]urrent market conditions and the long-term outlook for Great Lakes Works made it imperative that we act now, allowing us to better align our resources to deliver cost or capability differentiation across our footprint.
…click on the above link to read the rest of the article…