"The high household debt load is the most important risk facing the financial system": Bank of Canada Governor Poloz, another central banker that bemoans the effects of this handiwork.
Canadian households, rated near the top of the most indebted in the world, accomplished something awe-inspiring: They got even more indebted and their leverage rose to a new record, according to data released today by Statistics Canada. The portion of their disposable income (total incomes from all sources minus taxes) that Canadian households spent on making principal and interest payments, including on mortgage debts and non-mortgage debts such as credit card balances, reached a new record of 14.96% in the third quarter, This record beat the prior record of 2007, and this happened despite still ultra-low interest rates: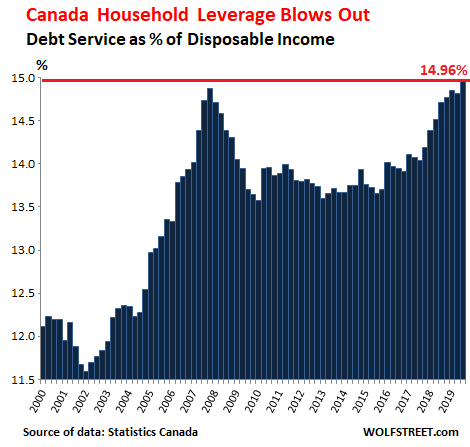 Mortgage debt was the driver behind this new record, as the portion of disposable income that Canadians spent to make interest and principal payments on their mortgages rose to 6.74%, the highest ever.
But these are aggregate numbers, and for some individual households, the burden is a lot higher. Based on data from the 2016 census, 67.8% of Canadian households own their home, and the ratio has been dropping. The remaining households rent, and they do not have a mortgage. And a portion of those who own a home do not have a mortgage either because they'd already paid it off. And another portion of homeowners only carries a relatively small amount of mortgage debt.
But among the remaining homeowners, particularly those who bought in recent years, the burden of their mortgage is heavy.
…click on the above link to read the rest of the article…