Now five days into widespread protests in some one hundred Iranian cities after a dramatic gas price hike last Friday, Amnesty Internationalreports that at least 106 have been killed.
However, "The organisation believes that the real death toll may be much higher, with some reports suggesting as many as 200 have been killed," Amnesty said in a statement.
This as the government has cut off internet access across much of the country, resulting in few videos of clashes with police reaching the West, as in the early couple of days of the unrest.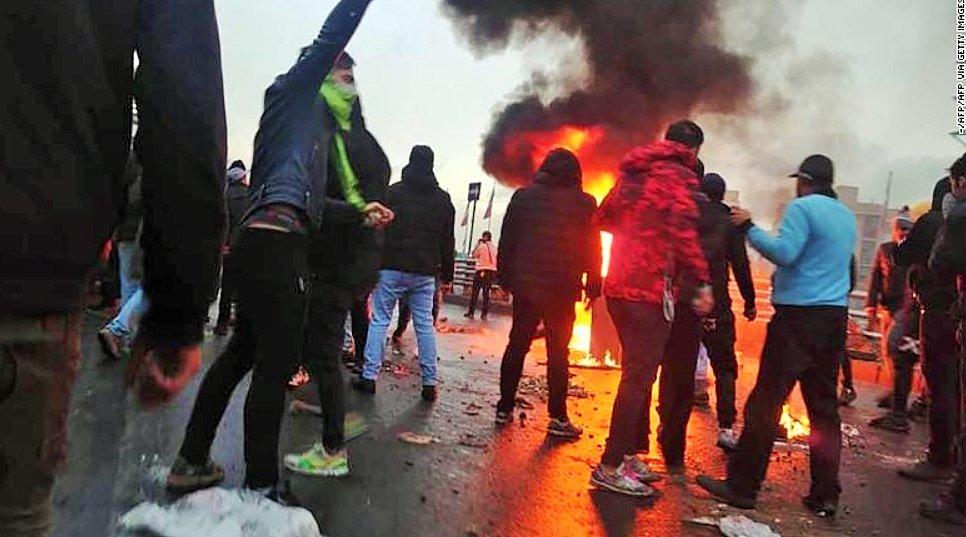 A statement from the global outage monitor Oracle's Internet Intelligence called it the largest blockage ever observed in Iran:
Protesters took to the streets shortly after the government announced an increase in fuel prices by as much as 300%. Social media images showed banks, petrol stations and government buildings set ablaze by rioters. Some protesters chanted "down with Khamenei," according to videos, referring to the country's Supreme Leader Ayatollah Ali Khamenei.

The internet blackout started on Saturday evening and continued through Monday, according to internet watchdogs. Oracle's Internet Intelligence called it the "largest internet shutdown ever observed in Iran."
The United Nations is now urging Iran to lift the internet blockage and to show restraint after what the international body called the "clearly very serious" extent of casualties.
The UN high commissioner also acknowledged it is looking into reports of live ammunition being used on demonstrators, which activists say there's ample video evidence for.
The government-imposed internet block began on Saturday, leaving some 80 million citizens without online access. 
…click on the above link to read the rest of the article…