The Bussiness Confidence Survey 2019/20 published by the German Chamber of Commerce in China, in cooperation with KPMG in Germany, finds that almost a quarter of German companies operating in China are preparing to relocate production facilities.
The survey was conducted from late July through mid-September and had 526 member companies out of 2300 respond. Out of the 526 member companies, 23% of the respondents said their factories will be transferred out of China or are contemplating the move.
Among the German companies leaving or actively planning to leave China, about 71% blame increasing labor costs; 33% cited unfavorable policy environment; 25% said the US-China trade war, and 22% said market access barriers.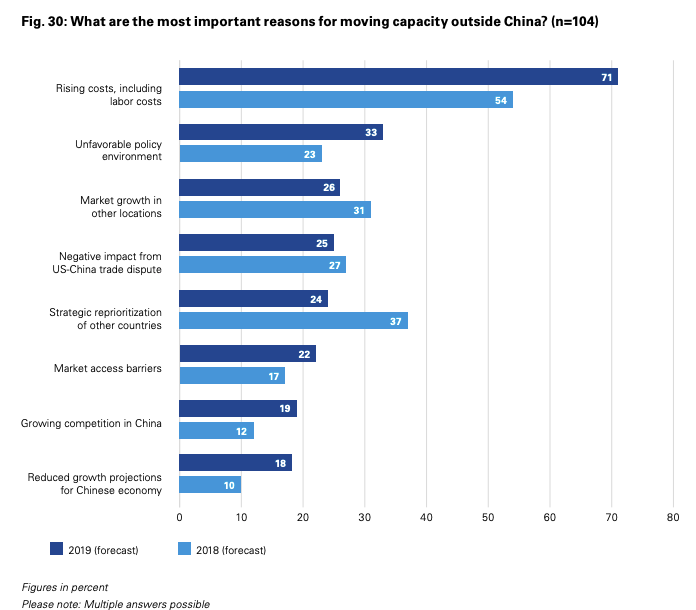 Of the respondents who've resorted to relocation, 52% have chosen Southeast Asia, 25% India, 19% Central/Eastern Europe, and 17% Western Europe. Only 5% of respondents said they were going to move operations to the US, contrary to President Trump's claim that companies exiting China will be rushing to the US.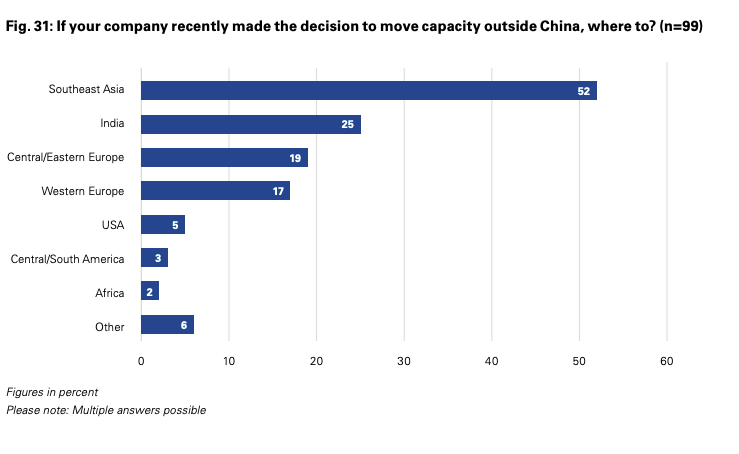 Respondents said the US-China trade war had created a toxic and "gloomy" business outlook that has contributed to the global synchronized slowdown.
About 83% of German companies said the trade war has directly or indirectly affected their operations. "Business expectations have dropped to their lowest level in years with only 27% of surveyed German companies expecting to reach or exceed their business targets in 2019," the survey warned.

Jens Hildebrandt, Executive Director of the German Chamber of Commerce in China, said: "2020 is likely to be characterized by uncertainty, stemming from an unresolved US-China trade dispute related with a decelerating Chinese and global economy."
German firms also said market access barriers and regulatory hurdles stunted their growth in China, with 66% of firms saying they've encountered either direct or indirect market access restrictions.