Iraqi anti-government demonstrators fear a major new crackdown is coming after much of the nation's internet access has been cut, especially in the restive south. This also as Baghdad authorities fear outside 'foreign interference' after President Trump referenced the mass protests on Twitter.
A nearly nationwide blockage was first reported last night, and was briefly restored early Tuesday before being cut off again. "At the time of writing, national connectivity has fallen below 19% of normal levels sending tens of millions of users offline across Baghdad, also impacting Basra, Karbala and other population centers," Reuters cited NetBlocks as stating late in the day Monday. "The new disruption is believed to be the most severe observed in Iraq to date," the report added.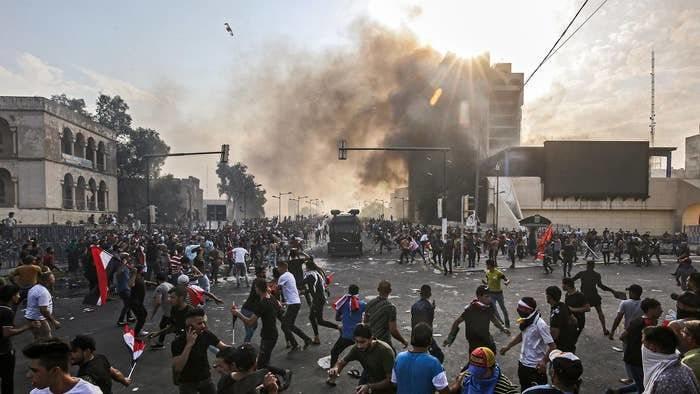 And NetBlocks monitoring group further observed into Tuesday — "Internet shut down again across most of Iraq following brief 3.5 hour restoration; real-time network data show national connectivity currently at 30% of ordinary levels" — related to the ongoing mass protests which have swept the country for over the past month. 
After accusations of Iran being involved in assisting and directing Baghdad security forces' crackdown, which in many case has involved live ammo to disband crowds, resulting at this point in over 250 Iraqis killed and nearly 10,000 wounded, there's growing fears that a Syria-style broader proxy war could emerge.
---


Alert: Internet shut down again across most of #Iraq following brief 3.5 hour restoration; real-time network data show national connectivity currently at 30% of ordinary levels; incident ongoing #iraq_protests #KeepItOn

https://netblocks.org/reports/iraq-shuts-down-internet-again-as-protests-intensify-Q8oOWz8n …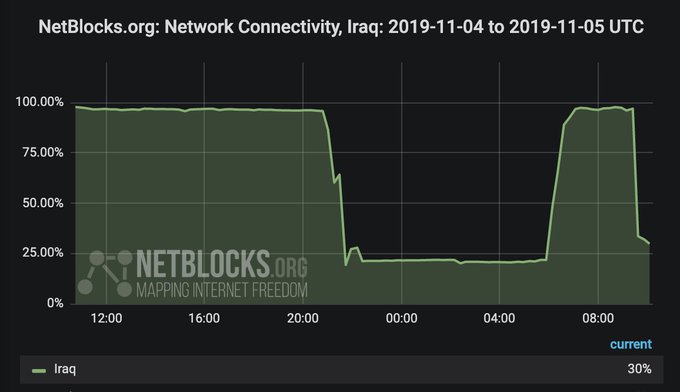 ---
…click on the above link to read the rest of the article…