With California's largest utility, PG&E, now bankrupt after starting the deadliest fire in California history, and cutting power to its customers at the mere hint of a windstorm that could leave it exposed to more multi-billion lawsuits, leaving millions in the dark, California's second largest utility, Edison, may soon be insolvent too.
The stock of Edison International, which is California's second biggest electricity provider through its Southern California Edison subsidiary, which distributes electricity to 5.1 million customers in central, coastal, and southern California, collapsed after the close when the company reported in its earnings call that California investigators concluded equipment owned by Edison International's utility caused one of the most destructive fires in state history, which killed three people and burned down entire sections of Malibu.
California county fire officials said that the Woolsey Fire, which raged for weeks in Los Angeles and Ventura counties in November 2018, was sparked by the utility's electrical equipment, Edison CEO Pedro Pizarro said in a call with investors on Tuesday.
EIX shares plunged as much as 19% to $52.75 in after-hours trading before modestly recovering some losses to trade at $62.95. Edison investors had expected the company would be blamed for the fire.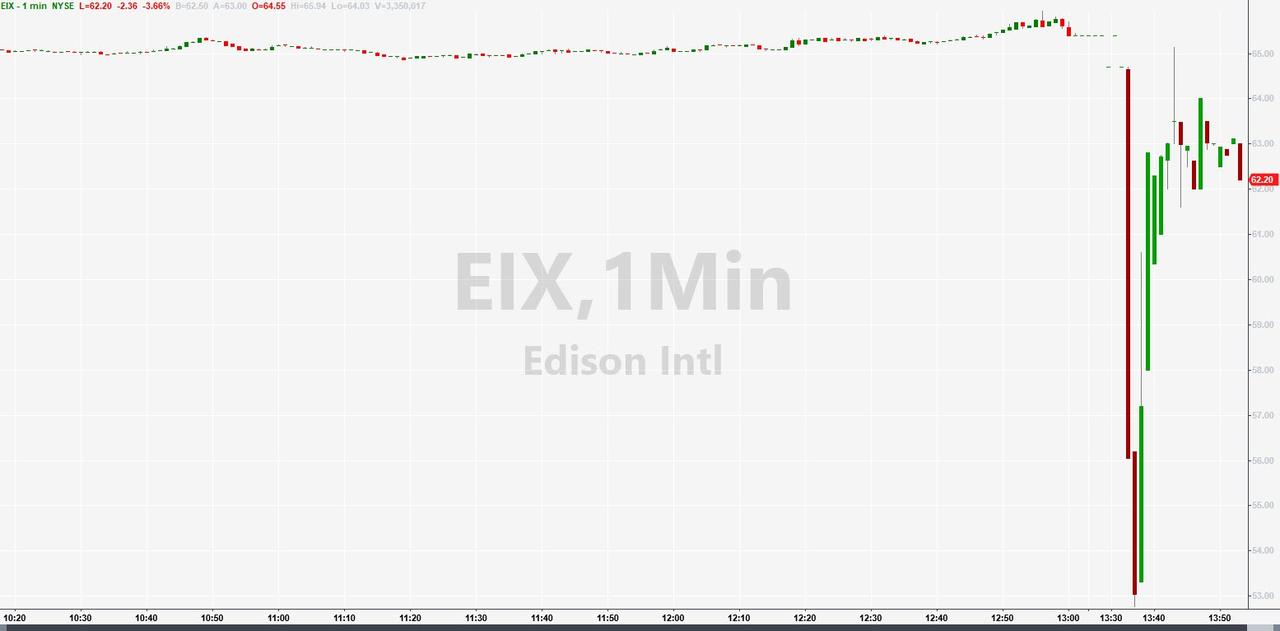 The finding comes as California grapples with a wildfire crisis that's pushed the state's largest utility, PG&E Corp., into bankruptcy.
While the company said earlier this year that it believed equipment owned by its Southern California Edison utility may be cited as the cause, and it took a $4.7 billion charge in connection to wildfires in 2017 and 2018, the question now is whether that charge will be sufficient, and whether the company may in fact follow PG&E into the abyss of insolvency as it scramble to file for protection from mounting lawsuits.
…click on the above link to read the rest of the article…