For a dramatic preview of what will happen in a flash to all those record low interest rates without the backstop of central banks and ravenous pension fund, look no further than what happened in Japan overnight, where bond futures suffered the biggest one-day crash since August 2, 2016, sliding as much as 0.97 yen to 154.05, and triggering margin calls for investors after the worst 10-year debt auction in three years.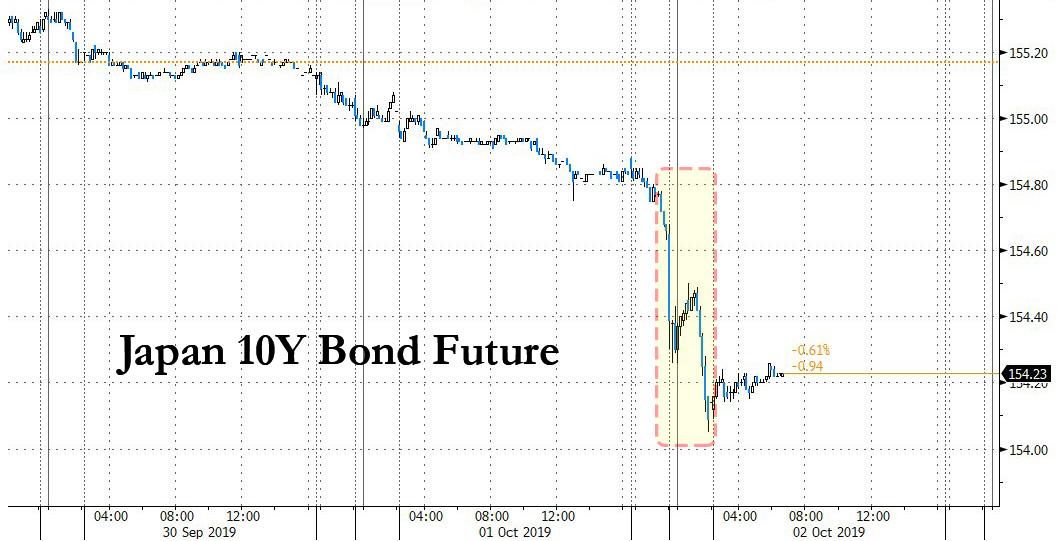 More ominously, once the rout started it quickly spread outside of Japan, because as yields jumped, the sell-off spilled into US Treasuries and European debt.
There were three things behind the swift collapse: the first catalyst was the Bank of Japan's Monday decision to slash bond purchases in October for the four major maturity buckets in order to steepen the curve and avoid further flattening which Kuroda has repeatedly expressed concern about in the past; the BOJ had indicated it may even stop buying debt of more than 25 years. It also sought to anchor yields from the one-to-three year zone by raising purchases in a regular operation earlier in the day and lifting the purchase band for the sector in October.
"The BOJ is showing its clear intention to correct distortions in the curve through flexible adjustments in market operations," said Mari Iwashita, chief market economist at Daiwa. "While cutting the lower end of purchases in bonds maturing over 25 years to zero looks shocking, the BOJ will probably cut buying in this zone slowly."
"The BOJ's operation change had a huge psychological impact," said Eiji Dohke, chief bond strategist at SBI Securities in Tokyo. "Investors are reluctant to buy given the risk of the BOJ skipping a purchase."
…click on the above link to read the rest of the article…