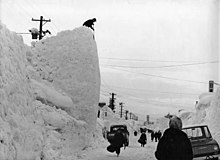 Climate has ALWAYS changed from decade to decade. There were major swings (volatility) during the 1930s. You had the dust bowl during the summer and in 1936 you had record cold. The 1936 North American cold wave, which also hit Japan and China, still rank among the most intense cold waves in the recorded history of North America. You cannot blame this on soccer moms driving the kids around town burning fossil fuels. Cars were a luxury in the 1930s still.
There is just no evidence of human-induced climate change. There is nobody willing to call them out on this nonsense with just showing the dramatic swings in temperature over the centuries.
Here is a piece that appeared in the Weekend Australian on the covert issues behind the curtain.
---

It's a well-kept secret, but 95 per cent of the climate models we are told prove the link between human CO2 emissions and catastrophic global warming have been found, after nearly two decades of temperature stasis, to be in error. It's not surprising.
We have been subjected to extravagance from climate catastrophists for close to 50 years.
In January 1970, Life magazine, based on "solid scientific evidence", claimed that by 1985 air pollution would reduce the sunlight reaching the Earth by half. In fact, across that period sunlight fell by between 3 per cent and 5 per cent. In a 1971 speech, Paul Ehrlich said: "If I were a gambler I would take even money that ­England will not exist in the year 2000."
Fast forward to March 2000 and David Viner, senior research scientist at the Climatic Research Unit, University of East Anglia, told The Independent, "Snowfalls are now a thing of the past." In December 2010, the Mail Online reported, "Coldest December since records began as temperatures plummet to minus 10C bringing travel chaos across Britain".
…click on the above link to read the rest of the article…