Yesterday, after countless demands that the Fed cut interest rates, Trump finally made his first, long anticipated formal demand that the Fed should pursue "some quantitative easing":

Our Economy is very strong, despite the horrendous lack of vision by Jay Powell and the Fed, but the Democrats are trying to "will" the Economy to be bad for purposes of the 2020 Election. Very Selfish! Our dollar is so strong that it is sadly hurting other parts of the world…

…..The Fed Rate, over a fairly short period of time, should be reduced by at least 100 basis points, with perhaps some quantitative easing as well. If that happened, our Economy would be even better, and the World Economy would be greatly and quickly enhanced-good for everyone!
The good news for Trump is that he has now fully figured out that he has the Fed in the palm of his hand, as he demonstrated just hours after Powell's July 31 rate cut when Trump broke the US-China trade ceasefire and re-escalated trade war, in the process sending rate cut odds soaring. The flowchart logic, as shown below, is quite simple: all Trump has to do is engage in action that threatens to destabilize the global economy and Powell – as he certified during the last FOMC meeting – has to respond by cutting further, until he eventually reaches a point where QE may be the only possible outcome (as we explained previously in "How The Fed Is Now Underwriting Trump's Trade War, In One Chart").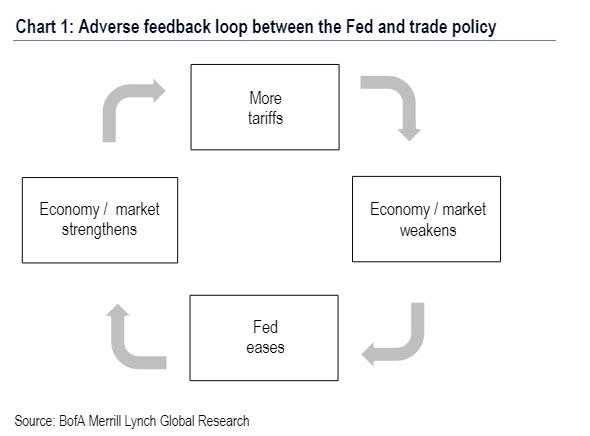 Obviously extending the logic of the above diagram to its logical conclusion also lays out the path that Trump must follow if he wishes to force the Fed to launch QE. And just in case it is unclear, it involves a "gray rhino", an economic war, and negative rates.
…click on the above link to read the rest of the article…