Earlier today, in a stark reversal from its traditionally cheerful demeanor, a Goldman Sachs strategist warned that "purely based on elevated equity valuations, as measured by the S&P 500 Shiller P/E, and current growth, according to our US Current Activity Indicator (CAI), the risk of an equity drawdown of more than 10%", i.e. a sharp market drop, or for lack of a better word, crash, "is the highest since the GFC."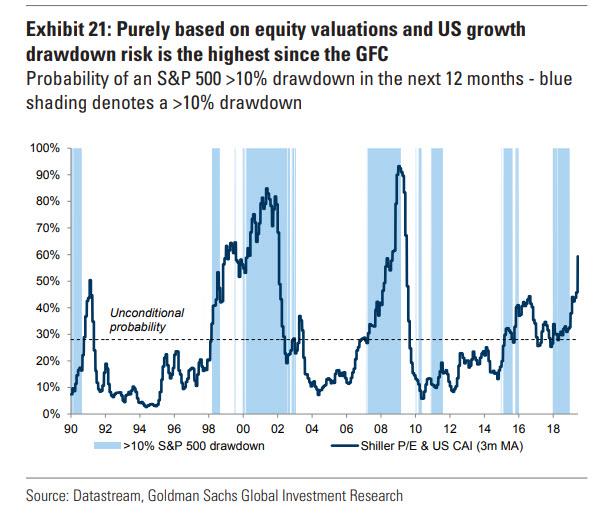 Well, Goldman wasn't the only one to see a major market selloff in the coming months.
Speaking at the Aspen Ideas Festival, billionaire investor and Elliott Management founder, Paul Singer, warned that the global economy is heading toward a "significant market downturn" cautioning that "the global financial system is very much toward the risky end of the spectrum."
While Paul Singer's traditionally downcast outlook is hardly surprising, as it permeates every investor letter published by the successful investor who has been particularly clear in the past decade that the Fed's monetary experiment will end terribly, he sees two particular reasons why the economy is approaching a tipping point: "global debt is at an all-time high. Derivatives are at an all-time high and it took all of this monetary easing to get to where we are today and I don't think central bankers, or policymakers or academics are in any better shape to predict the next downturn and I think we are the high end of the risk spectrum."
He then ominously added that "I'm expecting the possibility of a significant market downturn."
How bad would the crash be? According to the Elliott Management CEO, there will be a market "correction" of 30% to 40% when the downturn hits, although unlike Goldman – which gave a timeline of 12 months in which the next major market will materialize, Singer said he couldn't predict the timing.
…click on the above link to read the rest of the article…