The rate cuts for 2019 are a pipe-dream: Goldman Sachs and Deutsche Bank.
It now makes two: The chief economists at investment banks Goldman Sachs and Deutsche Bank have warned their clients that the already priced-in rate cuts this year that markets are so excited about may not materialize.
To proof their point, Deutsche Bank chief economist Torsten Slok and his team dug through the data going back to 2001, comparing the path of the federal funds rate – which reflects the Fed's rate hikes and cuts – to the futures markets for the federal funds rate. They concluded: "The market is almost always wrong about what the Fed will do."
And they asked: "Why would the market be right today?" That was a rhetorical question.
Yet, these bets – that are "almost always wrong" about the Fed's rate decisions – are now being incessantly cited to show that the Fed will cut its target range for the federal funds rate. At the moment, these traders see an 80% probability that the Fed will cut its target range at least twice by the December 11 meeting, including a 31% probability of three cuts by then, and a 10% probability of four cuts, as implied by trading of 30-day Fed Fund futures.
This chart shows how three rate cuts suddenly gained momentum among Fed Funds futures traders on the CME, though tapering a tad over the past two days (chart via Investing.com):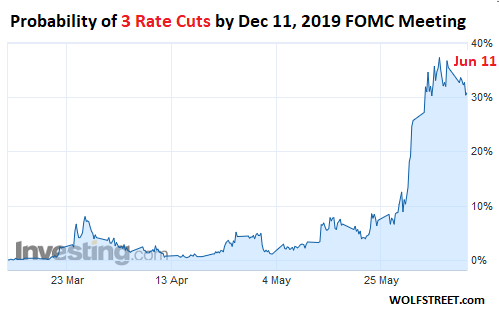 Anytime the rate-cut mongers on Wall Street can twist something a Fed governor says into a rate-cut projection, they will. For example, Fed chair Jerome Powell gave a speech on June 4 about long-term questions the Fed has been mulling over. The speech was unrelated to what the Fed will do over the next few meetings. Out of context, he shoehorned this line – "we will act as appropriate to sustain the expansion" – into the beginning.
…click on the above link to read the rest of the article…