"When times are tough, the thinking switches to the short-term. Many fleets are just fighting for survival."
Orders for Class-8 trucks – the heavy trucks that haul a large part of the goods-based economy across the US – plunged by 71% in May compared to May last year, to — as FTR Transportation Intelligence called it this afternoon — a "chilly 10,400" orders. It was "the lowest volume for Class 8 orders since July 2016 and the weakest month of May since 2009," FTR said in the statement (data via FTR):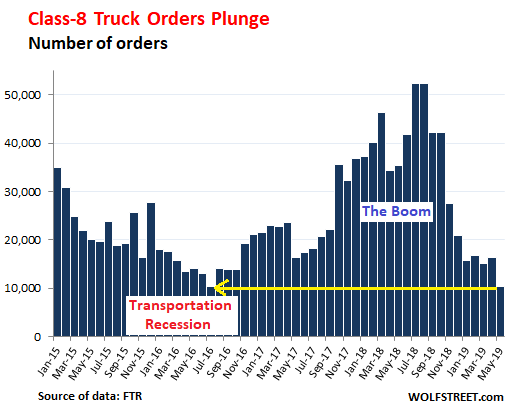 This comes after orders had already plunged year-over-year by 52% in April, 67% in March, 58% in February and January, and 43% in December. It was the seventh month in a row of year-over-year declines (data via FTR):
The cyclical nature of the industry is legendary. Trucking companies get exuberant when capacity tightens and freight rates soar – which they did in late 2017, that in 2018 turned into an outright capacity shortage and a driver shortage.
This boom was fueled in part by a decision in Corporate America to build up inventories in the US to front-run potential import tariffs. This put additional pressure on trucking capacity, and on freight rates. And it motivated trucking companies to order new equipment to meet demand. Given the capacity pressure at the time, they tried to get the orders in ahead of the others, and this created a phenomenal boom in orders — and at truck manufacturers, historic order backlogs.
Then the other part of the cycle begins. As these new trucks enter service, capacity rises, taking pressure of the system. This was expected.
…click on the above link to read the rest of the article…