With Chinese pigs getting slaughtering left and right to contain the breakout of African swine fever, also known as "Pig Ebola", so are pork shorts as meat processors around the world scramble to sell more pork to China to make up for sharp shortages of China's most popular protein. The consequence is tighter supplies in the U.S. and Europe, which is pushing up prices. And as the disease continues to spread throughout China – the world's largest producer and consumer – the trend will only get worse.
Case in point: US retail prices for boneless hams hit $4.31 per pound in March, the highest since 2015.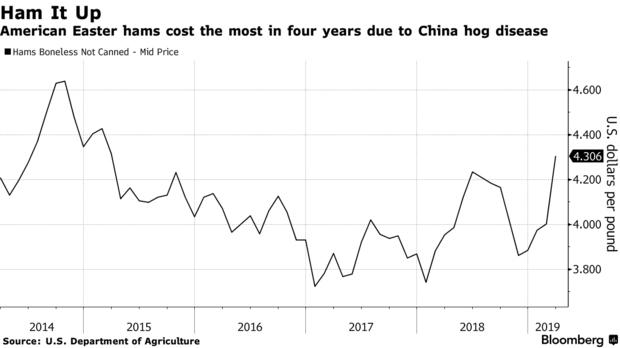 But none of this compares to what is about to hit China, where consumers are bracing for a shock as pork prices may surge more than 70% in the second half of this year an agriculture ministry official said last month, as the country's pork output has plunged as much as 30% this year, according to Rabobank, and could spike Chinese CPI in the coming months, sharply limiting the PBOC's efforts to stimulate and boost liquidity in the world's (credit-driven) growth dynamo and curbing China's latest attempt to reflate the world and boost global economic growth.
"Some meat that used to go to the U.S. is now going to China because it pays more," Jens Munk Ebbesen, director of food safety and veterinary issues at the Danish Agriculture & Food Council recently told Bloomberg.
Seeking to frontrun some of the price surge, China recently made its biggest-ever weekly purchase of US pork:
"African swine fever has sparked a rally across global protein stocks, but it's not too late to buy in," Morgan Stanley analysts led by Rafael Shin said in an April report to clients this week. "We think the rally has only begun and that the long-term impacts of ASF are still not understood."
 …click on the above link to read the rest of the article…