---
If you want to understand what is really happening in the world today, a mid-ranking official named Ian Henderson is vastly more important to you than Theresa May. You will not, however, find anything about Henderson in the vast majority of corporate and state media outlets.
You may recall that, one month after the Skripal incident, there was allegedly a "chemical weapons attack" in the jihadist enclave of Douma, which led to air strikes against the Syrian government in support of the jihadist forces by US, British and French bombers and missiles. At the time, I argued that the Douma jihadist enclave was on the brink of falling (as indeed it proved) and there was no military advantage – and a massive international downside – for the Syrian Army in using chemical weapons. Such evidence for the attack that existed came from the jihadist allied and NATO funded White Helmets and related sources; and the veteran and extremely respected journalist Robert Fisk, first westerner to arrive on the scene, reported that no chemical attack had taken place.
The "Douma chemical weapon attack" was linked to the "Skripal chemical weapon attack" by the western media as evidence of Russian evil. Robert Fisk was subjected to massive media abuse and I was demonised by countless mainstream media journalists on social media, of which this is just one example of a great many.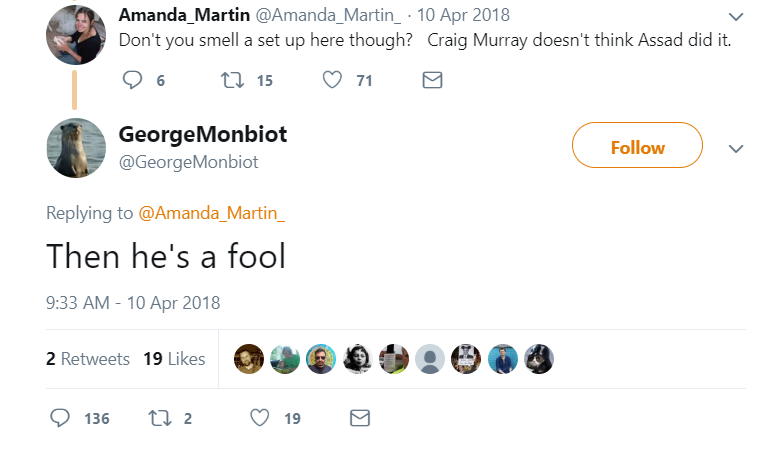 In both the Skripal and the Douma case, it fell to the Organisation for the Prohibition of Chemical Weapons to provide the technical analysis. The OPCW is a multilateral body established by treaty, and has 193 member states. The only major chemical weapons owning powers which are not members and refuse the inspections regime are the pariah rogue states Israel and North Korea.
…click on the above link to read the rest of the article…