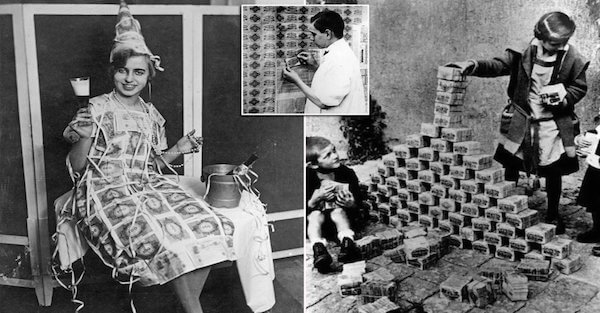 Maximilian Bern had saved up 100,000 German marks for what should have been a modest, but comfortable retirement.
But in 1923, he withdrew every last cent, and spent it all on one purchase: a subway ticket.
He rode around his city one last time before returning home, and locking himself in his home, where he died.
He didn't kill himself. He starved to death… simply because he could no longer afford food. A single egg at the market would cost millions of marks, more than Maximilian Bern had saved over his entire life.
This was one of the most famous episodes of hyperinflation, certainly in modern history.
In the wake of World War One, Germany (known as the Weimar Republic) was completely broke.
The War to end all Wars had bankrupted them; and on top of losing the war, Germany was forced to make 'reparation payments' to the victors, including France, the UK, etc.
That took Germany's overall war debt to impossible levels. So in a feeble attempt to keep the economy afloat and meet its war debt obligations, the German government printed massive amounts of paper money.
Prior to World War I, one US dollar was worth 4.2 German marks.
By 1923, a single US dollar was worth 4.2 TRILLION marks.
We've seen this in our own lifetime in places like Zimbabwe, and now Venezuela.
I remember the first time I went to Venezuela the official exchange rate was four bolivars to the US dollar—and the black market rate was eight to one.
…click on the above link to read the rest of the article…