Everyone now knows that the only meaningful goal of Fed policy is propping up the world's greatest credit-asset bubble.
In this era of fake news and deep-fake digital recordings and images, it's important to use unedited images. With this firmly in mind, here is an unedited photo of Federal Reserve Chair Jay Powell and former Fed Chairs Janet Yellen and Ben Bernanke from their recent unprecedented appearance on 60 Minutes: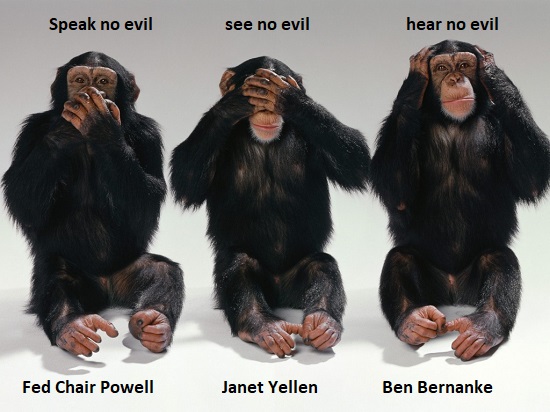 The purpose of the Fed chiefs' dog-and-pony show was to promote the notion that the Fed really really really (try not to laugh out loud) "cares" about the average American, even though 85% of the $30 trillion in gains generated by the Fed's policies flowed to the top 10% and roughly two-thirds of the gains flowed to the top few percent.
The bottom 80% got essentially nothing except a drastic reduction in the purchasing power of their stagnating wages. If this is how the Fed "cares" about average Americans, I wonder what they'd do if they chose to impoverish average Americans. Oh wait a minute, they already did.
I've covered this in recent essays:
The Fed's "Wealth Effect" Has Enriched the Haves at the Expense of the Young
It's All About Who Reaps the Gains (Asset Bubbles) and Who Eats the Losses (Stagnating Wages)
What triggered the unprecedented propaganda-fest of the three Fed monkeys? The realization that the Fed is evil is seeping into public awareness, and the Fed honchos are awakening to the reality I've spoken to here many times: the Fed is now constrained politically in terms of how far it can go to bail out the banks and the super-wealthy again.
…click on the above link to read the rest of the article…