The petrochemical fire that has been raging out of control at an oil storage facility in Deer Park, Texas since Sunday is now impacting the greater Houston area by what's been described as a "plume of thick, black smoke [which] for a third day intensified overnight as pungent fumes pervaded neighborhoods more than 20 miles away," according to Bloomberg and local reports. The Intercontinental Terminals Company in Deer Park, Texas on March 18. Image source: AP
The fire which has consumed highly flammable chemical tanks at the Intercontinental Terminals Company oil plant about 15 miles (24 kilometers) southeast of Houston remains "uncontrolled" according to local officials.
The petrochemical fire had triggered a "shelter-in-place" warning for area residents on Sunday, who were further advised by Deer Park city officials to close air ventilation systems in their homes and close all windows.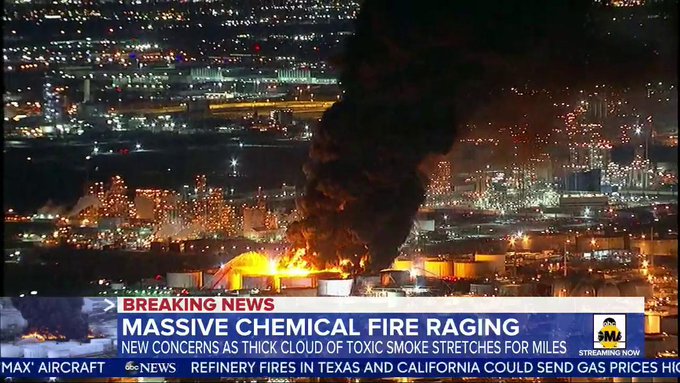 "Last night was really bad. Hard to breathe." A thick cloud of toxic smoke is stretching for miles as the result of a massive chemical plant fire nearr Houston. @TVMarci reports from Texas.
Disturbingly, a black plume has settled over downtown Houston and has now reportedly made its way to the city's northside. Bloomberg cited one local woman who noted, "You can really smell and taste it now."
According to prior local reports, the initial chemical tanks that caught fire were known to contain a highly flammable liquid hydrocarbon mixture called naphtha, which is often used as a raw material for production and conversion to gasoline.
Bloomberg further described:
"…in residential neighborhoods on the city's north side, a chemical odor descended Tuesday morning on an otherwise clear day."
…click on the above link to read the rest of the article…