Last month I published an essay about the importance of understanding the difference between fact and narrative, and I just want to quickly highlight a perfect illustration of this importance in a controversy arising from a recent Tulsi Gabbard tweet. The tweet reads as follows:
"Short-sighted politicians & media pundits who've spent last 2 years accusing Trump as a Putin puppet have brought us the expensive new Cold War & arms race. How? Because Trump now does everything he can to prove he's not Putin's puppet—even if it brings us closer to nuclear war."
Now, all the facts say that Gabbard's claim that Trump has been bringing the world closer to nuclear war with Russia is indisputably true. It is perhaps possible to dispute the notion that Trump has escalated tensions with Russia to try and "prove he's not Putin's puppet"; maybe an argument could be made that he's simply reckless and violent or that he's particularly beholden to cold war profiteers, or that despite all his rhetoric he just really, really hates Russia for some reason. But it is absolutely not disputable that Trump has greatly escalated tensions with a nuclear superpower by implementing a Nuclear Posture Review with a much more aggressive stance against Russia, withdrawing from the INF treaty, bombing and illegally occupying Syria, arming Ukraine, staging a coup in Venezuela, and many, many other hawkish actions taken against the interests of the Russian Federation which his predecessor Obama never dared to take.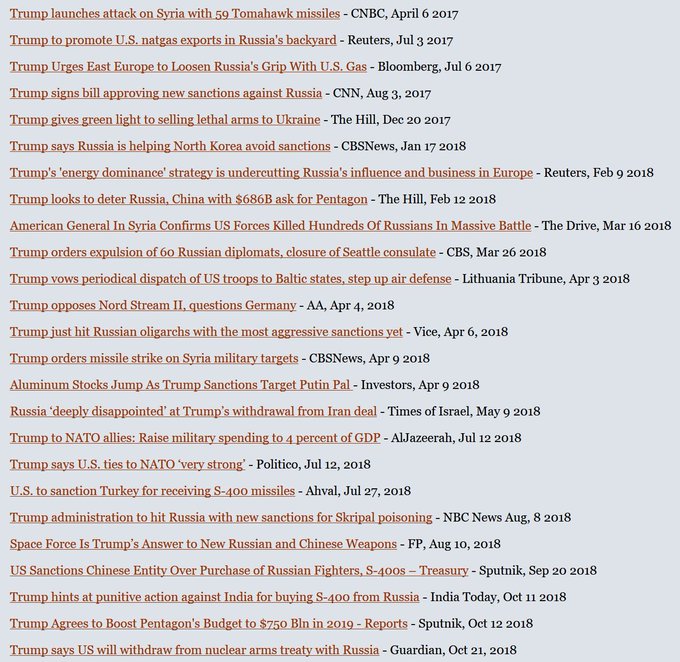 New on MoA:
Putin Asks And Trump Delivers –
A List Of All The Good Things Trump Did For Russiahttps://www.moonofalabama.org/2019/01/putin-asks-and-trump-delivers-here-is-a-list-of-all-the-good-things-trump-did-for-russia.html …
…click on the above link to read the rest of the article…