Comments from secretary of state come day before Vice President Mike Pence heads to the Colombian capital for an emergency summit.
People hold posters during a demonstration by Venezuelans against foreign intervention under the slogan #VenezuelaQuierePaz (Venezuela Wants Peace) at United States Embassy on February 18, 2019 in Buenos Aires, Argentina. (Photo: Franco Fasuli/Getty Images)Unrest and fears of U.S. military intervention in Venezuela continued on Sunday as Secretary of State Mike Pompeo reiterated the Trump administration's warning that "every option is on the table" and that it would galvanize a "global coalition to put force behind the voice" of those calling for the ouster of President Nicolás Maduro.
Pompeo made the comments on "Fox News Sunday" hours after he tweeted that the "U.S. will take action against those who oppose the peaceful restoration of democracy in #Venezuela," an apparent reference to those who do not back a regime change to opposition leader and self-declared acting president Juan Guaido.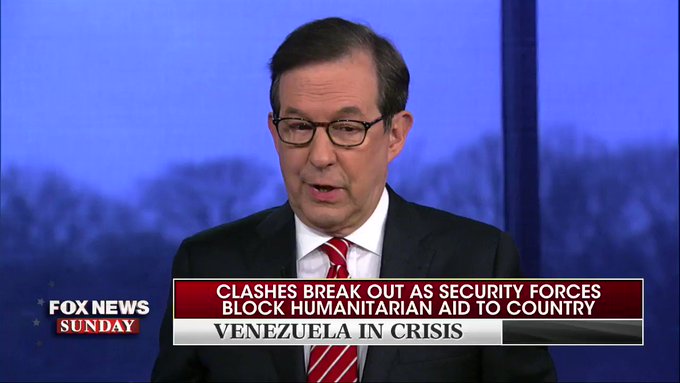 On possible military option in #Venezuela, @SecPompeo tells Chris: Every option is on the table, we're going to do the things that need to be done to make sure that the Venezuelans people's voice, that democracy reigns & that there's a brighter future for the people of Venezuela.
Guaido, as Bloomberg reported Sunday,
said that he'll meet Monday with officials from countries in the region backing his push to topple Maduro and announce the next steps afterward. While he didn't specify what those steps could be, he did say in a series of tweets that "all options" are being considered.

Shortly thereafter, Senator Marco Rubio [R-Fla.], who's helped spearhead the U.S. position on Venezuela, posted a tweet showing Panamanian dictator Manuel Noriega under arrest in the U.S. in what was a not-so-subtle threat to take Maduro out militarily.
…click on the above link to read the rest of the article…