"From a technical point of view, he (Stanley Kubrick) anticipated many things. … Since that time, little has changed, honestly. The only difference is that modern weapons systems have become more sophisticated, more complex. But this idea of a retaliatory strike and the inability to manage these systems, yes, all of these things are relevant today. It (controlling the systems) will become even more difficult and more dangerous." (Emphasis, jw)
Vladimir Putin commenting on the film, Dr. Strangelove: or How I Learned to Stop Worrying and Love the Bomb, in an interview with Oliver Stone, May 11, 2016. Putin had not seen the movie and did not know of it before Stone showed it to him.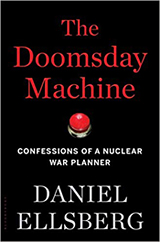 The Doomsday Machine, the title of Daniel Ellsberg's superb book is not simply an imaginary contraption from a movie masterpiece. A Doomsday Machine uncannily like the one described in Dr. Strangeloveexists right now. In fact, there are two such machines, one in US hands and one in Russia's. The US seeks to hide its version, but Ellsberg has revealed that it has existed since the 1950s. Russia has quietly admitted that it has one, named it formally, "Perimetr," and also tagged it with a frighteningly apt nickname "Dead Hand." Because the US and Russia are the only nations with Doomsday Machines to date we shall restrict this discussion to them.
The Doomsday Machine was published just a little more than a year ago, but its terrifying message has failed to provoke action. And Daniel Ellsberg is a man who knows whereof he speaks; the subtitle of the book is "Confessions of a Nuclear War Planner," which is how Ellsberg spent the early part of his career. What follows on this first anniversary of the book's publication is a brief restatement of the main argument of the book and then a summary of Ellsberg's plan of action.
…click on the above link to read the rest of the article…