Variable-rate mortgages, the HELOC phenomenon, and new stress tests meet higher rates.
The Bank of Canada raised interest rates another 25 basis points last week. It was the third time in the past six months. Rates have more than doubled in that time, going from 0.50% to 1.25%. This hike was baked into the economic data, and now it's getting baked into the debt loads of Canadian households.
Following the announcement, Canadian banks hiked their prime lending rateby an equivalent 25 basis points. The prime lending rate is the annual interest rate Canada's major banks use to set interest rates on variable-rate loans, lines of credit, variable-rate mortgages, and HELOCs (Home Equity Lines of credit).
This means nearly instantly higher interest payments for borrowers carrying variable-rate mortgages, HELOCs, and lines of credit.
This is critically important, considering the context of the current situation. Interest rates have been at historically low emergency levels since the Financial Crisis. This has allowed households to absorb elevated house prices and a record amount of debt. Each rate hike reduces the ability to service that debt.
Given the current size of the mortgages, for Vancouver households, a 1% rate increase in their variable mortgage rate would require an additional 9.2% of their income to make the payment, according to Better Dwelling, and for households in Toronto, it would require an additional 8.3% of their household income. In Montreal, it would require an additional 3.2% of their household income: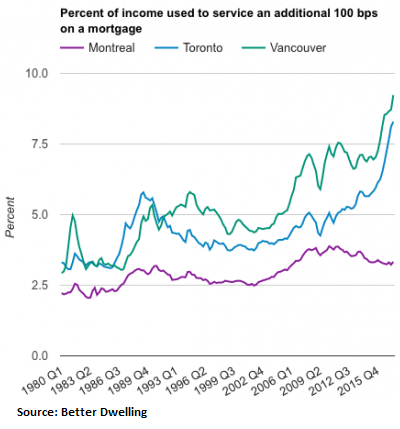 Further, the newly required stress tests for variable-rate mortgages require that applicants qualify at the minimum specified rate of the stress test, which just jumped from 4.99% to 5.14%, or at the actual rate they're borrowing at PLUS 2%, whichever is greater.
…click on the above link to read the rest of the article…