The Fed smiles upon rising long-term Treasury yields as sign of economic growth and rising inflation expectations.
Long-term US Treasury yields have continued to march higher despite the Fed's purchases of about $120 billion a month in Treasury securities and MBS, whose purpose it is to push down long-term rates. And the Fed governors continue to voice unanimous support for those higher yields as a sign of a growing economy and rising inflation expectations. Just about every day, they come out shrugging and expressing their support for those higher yields. On Friday, it was Richmond Fed President Thomas Barkin's job to spread the gospel.
"There's a lot of momentum in the economy right now," he told CNBC. "I think we are going to have a very strong summer, a very strong fall, as pent-up demand comes back in the economy, as vaccines roll out, and I think the economy is going to be strong enough to take somewhat higher rates."
This comes on top of Jerome Powell's insistence earlier in the week that the Fed will consider the rise in inflation as temporary, and that the Fed won't do anything about it, and that the resulting rise in long-term yields, as long as it doesn't create "disorderly conditions" in markets, are a welcome sign of economic growth and rising inflation expectations. This Fed is looking forward to a surge in inflation, and is promoting it, and so on Friday, the 10-year yield closed at 1.74%, the highest since January 2020: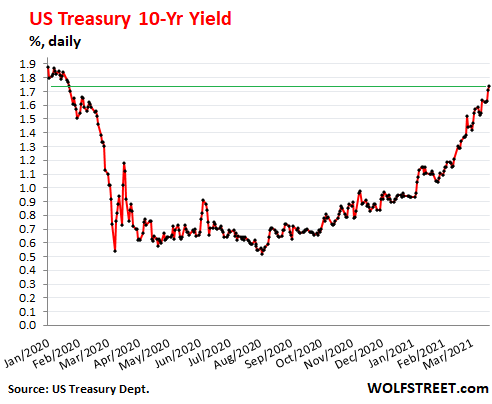 The 30-year yield closed at 2.45% on Friday, the highest since July 2019. When yields rise, bond prices fall. The price of the iShares 20 Plus Year Treasury Bond ETF [TLT], which tracks Treasury securities with maturities of 20 years or more, has dropped 21.5% since August 4.
…click on the above link to read the rest of the article…