Home » Posts tagged 'selfies'
Tag Archives:
selfies
"What Huxley teaches is that in the age of advanced technology, spiritual devastation is more likely to come from an enemy with a smiling face than from one whose countenance exudes suspicion and hate. In the Huxleyan prophecy, Big Brother does not watch us, by his choice. We watch him, by ours. There is no need for wardens or gates or Ministries of Truth.
When a population becomes distracted by trivia, when cultural life is redefined as a perpetual round of entertainments, when serious public conversation becomes a form of baby-talk, when, in short, a people become an audience and their public business a vaudeville act, then a nation finds itself at risk; a culture-death is a clear possibility." ― Neil Postman, Amusing Ourselves to Death: Public Discourse in the Age of Show Business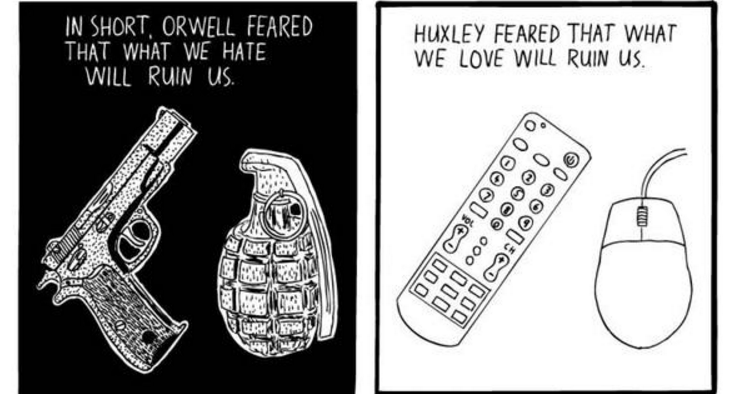 Something as mundane as using the restroom at work sometimes ends up triggering deeper thoughts about technology – its benefits, deficiencies and danger to our culture. I've been using the same restroom at work for the last twelve years. They remodeled the restroom a few years ago with the latest technology – automatic flushers, automatic soap dispensers, automatic spigots, and automatic towel dispenser. This technology is supposed to make things better, but from my perspective the technology just added complexity, glitches and unnecessary complications.
First off, these technological "improvements" did not eliminate any humans from the equation. The housekeepers responsible for the restrooms continued to be employed. Prior to the remodel they would fill a metal bin with individual paper towels and fill the soap dispenser with liquid soap. Now they have to insert a roll of paper towels in the electronic dispenser and a cartridge of soap in the electronic soap dispenser.
…click on the above link to read the rest of the article…
We are now in the seventh year of this Fourth Turning. A famous quote from the seventh year of the last Fourth Turning portended the desperate, bloody and ultimately heroic trials and tribulations which awaited generations of our ancestors. What will be our rendezvous with destiny?
"There is a mysterious cycle in human events. To some generations much is given. Of other generations much is expected. This generation of Americans has a rendezvous with destiny." – Franklin Delano Roosevelt – June 27, 1936 – Philadelphia, PA
Our Rendezvous With Destiny
"The seasons of time offer no guarantees. For modern societies, no less than for all forms of life, transformative change is discontinuous. For what seems an eternity, history goes nowhere – and then it suddenly flings us forward across some vast chaos that defies any mortal effort to plan our way there. The Fourth Turning will try our souls – and the saecular rhythm tells us that much will depend on how we face up to that trial. The saeculum does not reveal whether the story will have a happy ending, but it does tell us how and when our choices will make a difference."  – Strauss & Howe – The Fourth Turning

The people have been permitting a small cadre of elitists, billionaire financiers, corporate chiefs, propagandist media moguls, and crooked politicians to make the choices dictating the path of our country since the 2008 dawn of this Fourth Turning. The choices they have made and continue to make have imperiled the world and guaranteed a far more calamitous outcome as we attempt to navigate through the trials and tribulations ahead. Their strategy to "save the country" by saving bankers, while selling the plan to the public as beneficial to all and essential to saving our economic system, has proven to be nothing more than the greatest wealth transfer scheme in human history.  The ruling class is deliberately blind to their own venality and capacity for evil.
…click on the above link to read the rest of the article…