Home » Posts tagged 'rare-earth mineral export ban'
Tag Archives:
rare-earth mineral export ban
Once dismissed as a "nuclear option" that would only be invoked by Beijing as a last resort in the burgeoning trade war with the US, it's looking increasingly likely that the Communist Party might impose an export ban on rare-earth metals, creating serious supply-chain issues for American producers of everything from microchips, to batteries, to night-vision goggles.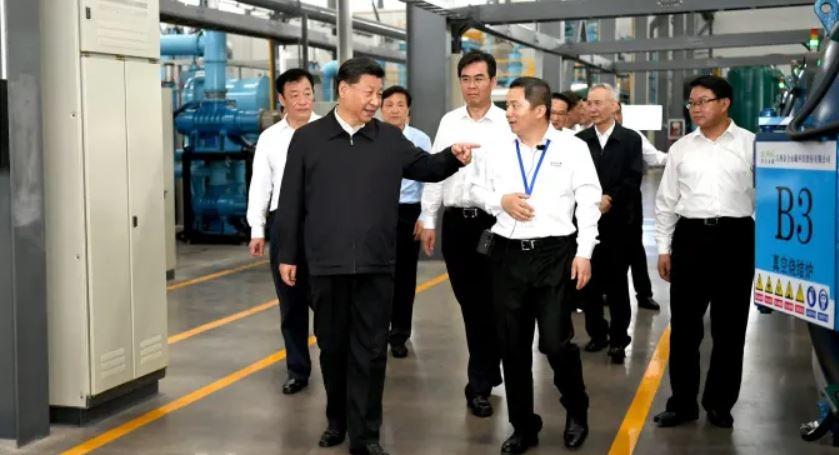 After Global Times editor and Trump Twitter foil Hu Xijin warned on Tuesday that a ban was being 'seriously considered' (which followed a visit by President Xi and Vice Premier Liu He to a rare-earth mine that was widely seen as a threatening gesture), China's powerful state-planning body threatened to use rare earths as "China's counter-weapon against the US's unwarranted suppression"…while a host of state-controlled media organizations used rare threatening language intended to convey that Beijing isn't playing around.
As BBG explained, an editorial published in the People's Daily on Wednesday used the phrase "don't say I didn't warn you", which is loaded with historical significance. That specific wording was used by the paper in the early 1960s before China fought a brief war with India; it was also used before conflict broke out between China and Vietnam.
The newspaper's commentary included a rare Chinese phrase that means "don't say I didn't warn you."The specific wording was used by the paper in 1962 before China went to war with India, and "those familiar with Chinese diplomatic language know the weight of this phrase," the Global Times, a newspaper affiliated with the Communist Party, said in an article last April. It was also used before conflict broke out between China and Vietnam in 1979.

On rare earths specifically, the People's Daily said it isn't hard to answer the question whether China will use the elements as retaliation in the trade war.
…click on the above link to read the rest of the article…
Following what was a mostly quiet holiday weekend for trade-war-related rhetoric (other than a dollop of trade-deal optimism offer by President Trump, little was said by either side), Beijing has started the holiday-shortened week by reiterating threats to embrace what we have described as a 'nuclear' option: restricting exports of rare earth metals to the US.
Global Times editor Hu Xijin, who has emerged as one of the most influential Communist Party mouthpieces since President Trump increased tariffs on $200 billion in Chinese goods, tweeted that China is "seriously considering restricting rare earths exports to the US."

Based on what I know, China is seriously considering restricting rare earth exports to the US. . China may also take other countermeasures in the future.
There are signs that these warnings should be taken seriously: One week ago, President Xi and Vice Premier Liu He, China's top trade negotiator, visited a rare earth metals mine in Jiangxi province. Rare earths, which are vital for the manufacture of everything from microchips to batteries, to LED displays to night-vision goggles, have been excluded from US tariffs.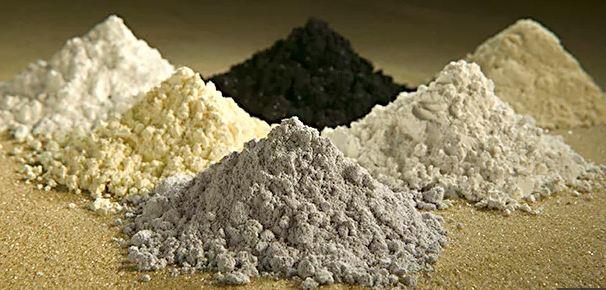 Though other Chinese officials have denied that export curbs were being considered, Xi's visit was widely viewed as a symbolic warning. Seven out of every 10 tons of rare earth metals mined last year were produced by Chinese mines. One analyst warned that Xi's visit was intended to send "a strong message" to the US.
Beijing is limited in its ability to retaliate against Washington's tariffs by the fact that there simply aren't enough American-made goods flowing into the Chinese market. Because of these limits, it's widely suspected that Beijing will find other ways to retaliate. Though they are more plentiful than precious metals like gold and platinum, rare earths can be expensive to refine and extract.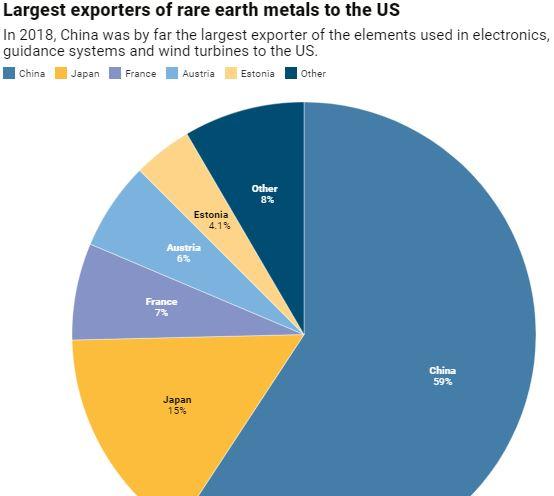 The tension has sparked a 30% increase in 'heavy rare earth' metals.
…click on the above link to read the rest of the article…