But the problemita of pulling the rug out from under the entire banking system still needs to be addressed.
"As cash use continues to decline, the question naturally arises as to whether central banks should provide a digital alternative to cash that also provides some privacy features," says the blog post, titled "Monetizing Privacy," by the New York Fed. The post is based on a 26-page academic paper on digital payment methods that have been used broadly, the current market structure of digital payment methods, the data-gathering that occurs, versus cash payments that preserve privacy – and versus the "digital dollar" now being worked on.
Each time a digital payment takes place, the companies involved gather voluminous amounts of data and hang on to it because it gives them a competitive advantage in selling more goods or services to this particular consumer. This data has a lot of value for these companies – a key point we'll get to in a moment with regards to the "digital dollar."
While the share of cash in transactions has declined, US dollar bills are being hoarded like never before. "Currency in circulation," which the Fed reports weekly on its balance sheet as a liability, has soared during the Pandemic, reaching another record last week of $2.06 trillion, having doubled since 2011: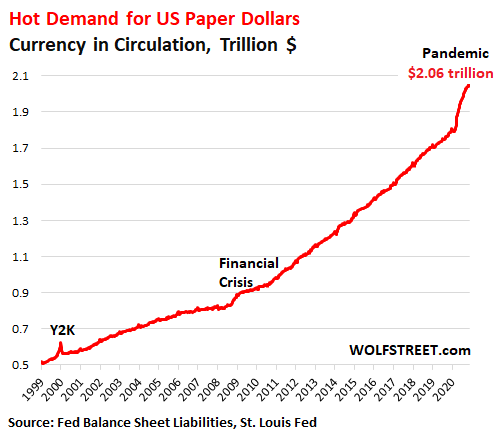 The amount of currency in circulation is demand-based: Banks have to have enough currency on hand to satisfy their customers' demand for currency, and during a crisis, people load up and hoard cash, much of it overseas, and to meet this demand, banks have to buy more currency from the Fed, usually paying with Treasury securities for this paper.
…click on the above link to read the rest of the article…