Home » Posts tagged 'power blackouts'
Tag Archives:
power blackouts
The US heating season has officially begun, and new warnings show that a quarter of all Americans could experience energy emergencies this winter if temperatures fall below average due to tight fossil fuel supplies.
Power grids from the Great Lakes to Louisiana, New England, Carolinas, and all of Texas are the most at risk for power supply shortfalls during high-demand periods, according to Bloomberg, citing a new report from the North American Electric Reliability Corporation (NERC), a regulatory body that manages grid stability.
NERC said a cold snap for an extended period could spark grid strain due to soaring power demand from households and businesses. This would cause supplies of natural gas, coal, and backup diesel generators to draw down more quickly and possibly experience shortages.
"The trend is we see more areas at risk, we see more retirements of critical generation, fuel challenges and we are doing everything we can. 

"These challenges don't kind of appear out of nowhere," John Moura, NERC's director of reliability assessment, said during a media briefing.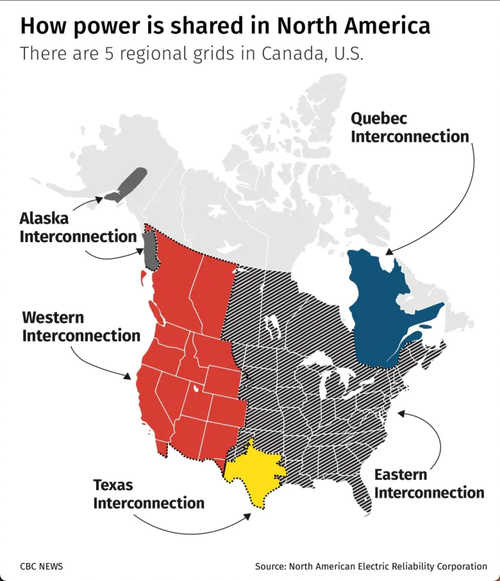 For instance, the demand for diesel is rising, but East Coast supplies are at record lows for this time of year. Shortage of fuel used to power the economy, from heating to trucking, has about 25 days left of supplies in storage. Any supply disruption could leave power generation plants with supply gaps this winter.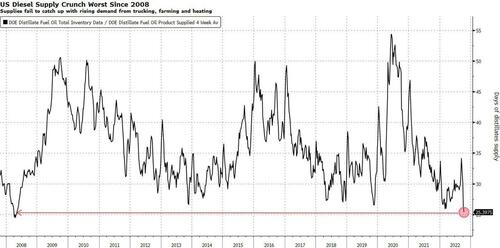 Jim Matheson, chief executive officer of the National Rural Electric Cooperative Association, told Bloomberg that electricity demand is set to outpace "available supply during peak winter conditions, consumers face an inconceivable but real threat of rolling blackouts."
Matheson warned: "It doesn't have to be this way. But absent a shift in state and federal energy policy, this is a reality we will face for years to come."
…click on the above link to read the rest…
The Brits aren't the only European nation to find itself on the verge of a full-blown energy crisis.
On Thursday, French natural gas pipeline operator GRTgaz warned that French gas stockpiles are much lower at this point in the year than they have been during years past – and as a result, they run the risk of potentially being depleted before the winter is up, a disaster that could make last year's deep freeze in Texas look tame if a sudden cold snap sends demand soaring.
According to data from Gas Infrastructure Europe, France's stockpiles were about 34% full as of Feb. 1, which is well below the five-year average of 42%. Inventories are now at the lowest seasonal level since 2018, when a brutal winter cold snap nicknamed "the Beast from the East" left French reserves standing at just 3% when the heating season was over.
"We'll probably be close to zero toward the end of March, and we remain vigilant on that topic," GRTgaz chief Thierry Trouve said in a presentation in Paris Thursday.
It's the most precarious for French gas inventories since they arrived at their lowest seasonal level since 2018. Inventories are now at the lowest seasonal level since 2018, when the country ended the heating season with storage at a record-low of just 3%.
And gas prices are much higher today than they were back then.
Fortunately, mild weather is expected to continue across much of Europe this month. But further down the road, limited Russian shipments to Europe and surging demand as economies reopen following the omicron wave could create problems, especially if a late-season cold snap should arise.
…click on the above link to read the rest of the article…
France's electricity grid is coming under strain, and the next cold snap could be devastating for the country as energy-intensive manufacturers would experience reduced power, according to a new report published by French power grid operator Reseau de Transport d'Electricite (RTE).
RTE said due to the lack of wind and nuclear power generation. The next cold snap would force it to cut electricity to energy-intensive companies to stabilize the grid. There's even the possibility widespread rolling blackouts could be implemented for two hours to mitigate grid collapse during peak energy demand.
The good news is that weather forecasting models provided by Bloomberg don't show an imminent cold blast for the first half of January.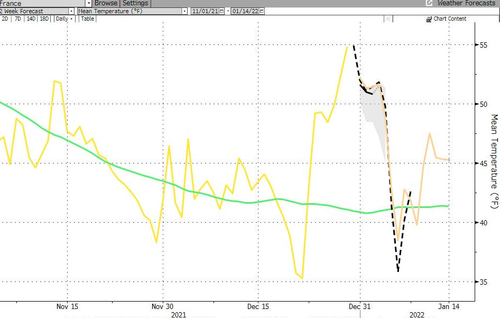 "Based on the latest forecast for January, such meteorological events — including a severe cold snap — seem very unlikely for the start of the month, and less likely for the rest of the month," RTE said. "Hence, the risk of power cuts is essentially ruled out at least for the start of January."
Mild temperatures and a flotilla of liquefied natural gas tankers have been a temporary relief for Europe, sending Dutch TTF natural gas and power prices lower in the last week.
France's grid remains under pressure but not as bad as last week when day-ahead power prices rose to the highest level since 2009 and have since halved. Prices remain at extremely high levels.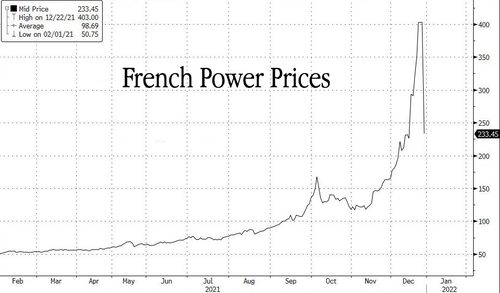 Energy inflation is a politically sensitive issue for President Emmanuel Macron ahead of April's presidential elections. If renewable power generation lags, nuclear reactors remain halted for maintenance, and natural gas prices remain elevated, then higher power bills into January and February could create more unpopularity for Macron.