The signs are everywhere for those willing to look: something has changed beneath the surface of complacent faith in permanent growth.
This is more intuitive than quantitative, but my gut feeling is that the economy just stumbled off a cliff. Neither the cliff edge nor the fatal misstep are visible yet; both remain in the shadows of the intangible foundation of the economy: trust, animal spirits, faith in authorities' management, etc.
Since credit expansion is the lifeblood of the global economy, let's look at credit expansion.
 Courtesy of 
Market Daily Briefing
, here is a chart of total credit in the U.S. and a chart of the percentage increase of credit.
Notice the difference between credit expansion in 1990 – 2008 and the expansion of 2009 – 2017. Credit expanded by a monumental $40+ trillion in 1990 – 2008 without any monetary easing (QE) or zero-interest rate policy (ZIRP). The expansion of 2009 – 2017 required 8 long years of massive monetary/fiscal stimulus and ZIRP.
This chart of credit change (%) reveal just how lackluster the current expansion of credit has been, despite unprecedented trillions of stimulus pumped into the financial sector.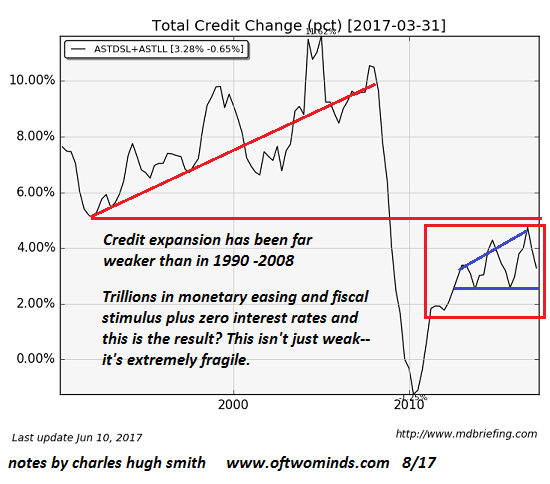 Here are two other snapshots of debt: margin debt and private credit. Both have hit new highs.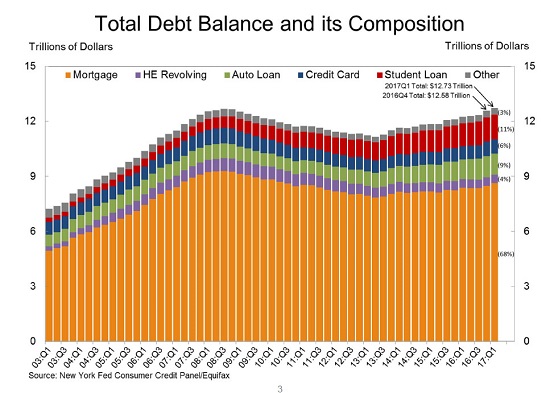 Note the tight correlation of margin debt to the S&P 500 stock index: when punters borrow more on margin to buy more stock, stocks keep rising.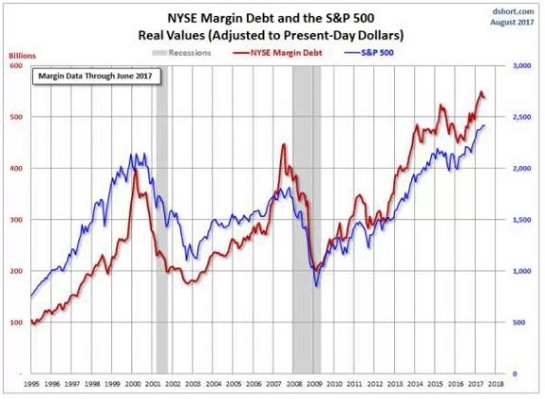 When credit stops expanding, the economy stumbles into recession.
Back in the real world, have you noticed a slowing of animal spirits borrowing and spending? Have you tightened up your household budget recently, or witnessed cutbacks in the spending habits of friends and family? Have you noticed retail parking lots aren't very full nowadays, and once-full cafes now have empty tables?
…click on the above link to read the rest of the article…