Home » Posts tagged 'grace 1 oil tanker'
Tag Archives:
grace 1 oil tanker
Britain has slammed Iran for what it says is a breach in assurances regarding the previously detained Grace 1/Adrian Darya 1 tanker. Specifically a condition of the vessel's release from UK/Gibraltar captivity last month was that it would not offload its 2.1 million barrels of Iranian oil to Syria in violation of EU sanctions.
But the UK can do little beyond merely issuing a formal complaint to the United Nations, which it plans to do next month, according to Reuters. London was also reported to have summoned Iran's ambassador on Tuesday to condemn the move. Image via EPA-EFE
"Iran has shown complete disregard for its own assurances over Adrian Darya 1," foreign minister Dominic Raab said in a statement. "This sale of oil to (Syrian President Bashar al-Assad's) brutal regime is part of a pattern of behavior by the Government of Iran designed to disrupt regional security."
The diplomatic row comes days after over the weekend Iran's foreign ministry confirmed the tanker had unloaded its valuable cargo, estimated at $130 million in crude, "on the Mediterranean coast," according to state media. Just prior the Iranian tanker was observed within a few nautical miles of Syria's coast via satellite images.
"Iran's actions represent an unacceptable violation of international norms," the UK statement said.
However, we should point out it's also not within "international norms" – indeed it's unprecedented – for Royal Marines to raid a foreign vessel in international waters at the bidding of Washington, which is precisely what happen when the tanker was detained in the first place.
Currently, Tehran is rumored to be preparing the release the British-flagged Stena Impero, captured in the Strait of Hormuz on July 19 in retaliation for Britain's prior capture of the Grace 1 off Gibraltar on July 4.
…click on the above link to read the rest of the article…
With the Grace 1 now released after two failed attempts of Washington to bring the Iranian tanker under US custody, since renamed the Adrian Darya and flying the Iranian flag, Tehran officials are still refusing to confirm its ultimate destination where it will offload its 2.1 million barrels of oil.
On Monday Iran's foreign ministry issued new warnings to the United States not to mount any new attempt to seize the tanker. "If this is done or even stated, it is a threat to free shipping," a spokesman said. "Through its official channels, and especially the Swiss embassy, Iran has warned U.S. officials not to make the mistake of doing so, as they face bad consequences."
….and there she goes! After 46 days in Gibraltar Waters sparking an international incident with Iran, the Adrian Darya, formerly the Grace 1, is leaving…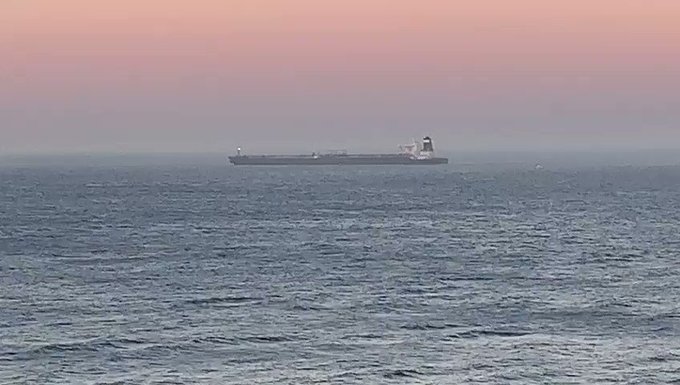 Per a breaking Bloomberg report, Iran issued a formal warning to the US via Switzerland to not interfere with the ship's passage through international waters.
Furthermore, Iranian Foreign Minister Javad Zarif said at a press conference in Helsinki while attending diplomatic meetings in Finland that Iran cannot be "very transparent" about the tanker's destination due to US sanctions.
He said the US is trying "bully others from purchasing our oil" but expressed hope the Gibraltar court's release of the tanker would serve to deescalate tensions, according to Bloomberg.
The Adrian Darya's shipping tracking data shows it intends to head to Kalamata, Greece, with an arrival date of Aug. 25, according to reports, where it's likely to change crew and get fresh supplies. 
…click on the above link to read the rest of the article…
Apparently the month long saga of the Grace-1 is not at all over, and may now seriously escalate even after it was set free from custody. Just as the Iranian supertanker was released from custody off Gibraltar and is preparing to make its way into the Mediterranean, a seizure warrant filed by the US Department of Justice was unsealed in a US district court late Friday.
Documents allege "a scheme to unlawfully access the U.S. financial system to support illicit shipments to Syria from Iran by the Islamic Revolutionary Guard Corps," the DoJ said in a statement.
The seizure warrant and forfeiture complaint alleges the now Iranian-flagged tanker along with its over two million barrels of oil aboard it and $995,000 "are subject to forfeiture," citing terrorism forfeiture statutes, and bank fraud and money laundering.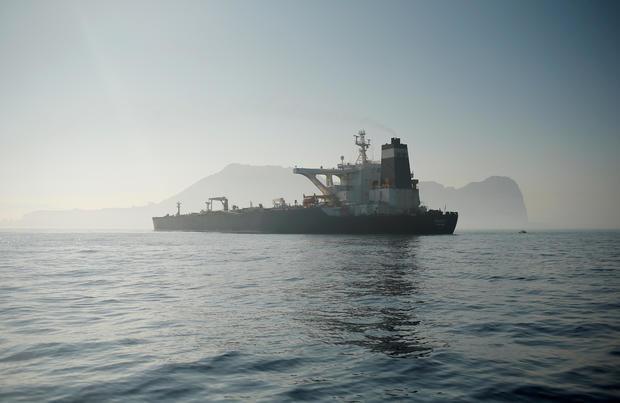 "The scheme involves multiple parties affiliated with the IRGC and furthered by the deceptive voyages of the Grace 1," US Attorney for the District of Columbia Jessie Liu said in a press release. "A network of front companies allegedly laundered millions of dollars in support of such shipments."
The warrant is addressed to "the United States Marshal's Service and/or any other duly authorized law enforcement officer."
According to Reuters, the Grace 1 – now renamed the Adrian Darya after Iran began flying its flag over the previously Panamanian-flagged tanker – may not have made it far though it was filmed moving on Friday. "The tanker shifted its position on Friday, but its anchor was still down off Gibraltar and it was unclear if it was ready to set sail soon," the report said.
…click on the above link to read the rest of the article…