Home » Posts tagged 'global water supplies'
Tag Archives:
global water supplies
As the world's population and its agricultural needs have grown, so too has the demand for water, putting the world's supply of water under the microscope.
A century ago, freshwater consumption was six times lower than in modern times. This increase in demand and usage has resulted in rising stress on freshwater resources and further depletion of reservoirs.
Visual Capitalist's Freny Fernandez introduces this graphic by Chesca Kirkland – using insights from Our World in Data – to break down water supply and also withdrawals per capita. The latter measures the quantity of water taken from both groundwater and freshwater sources for agricultural, industrial, or domestic use.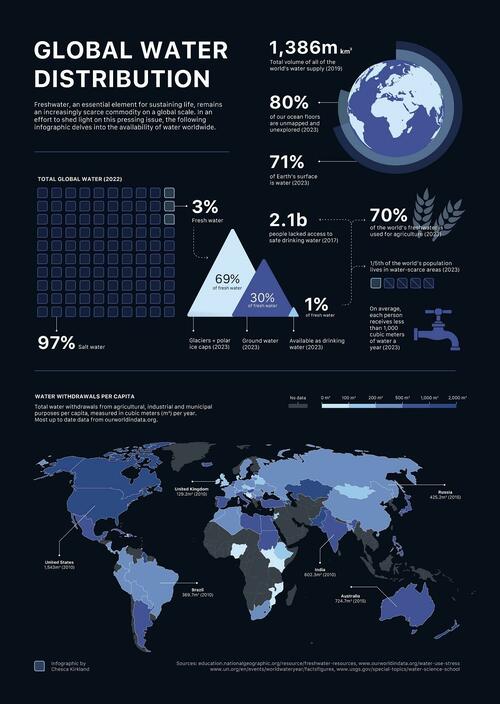 How Much Water Do We Have?
Many people know that more than 70% of the Earth's surface is water. That's 326 million trillion gallons of water, yet humanity still faces a tight supply. Why is that?
It's because 97% of this water is saline and unfit for consumption. Of the remaining 3% of freshwater, about two-thirds are locked away in the form of snow, glaciers, and polar ice caps. Meanwhile, just under a third of freshwater is found in fast-depleting groundwater resources.
That leaves just 1% of global freshwater as "easily" sourced supply from rainfall as well as freshwater reservoirs including rivers and lakes.
Per Capita Water Withdrawals
Any look at a world map of rivers and lakes will reveal that fresh water distribution is highly uneven across different regions of the world.
Yet developed and developing countries alike require a lot of water for both commercial and personal use. Agriculture use alone accounts for an estimated 70% of the world's available freshwater.
Below we can see how water withdrawals per capita have grown over the past decades, using the latest available data from each.
…click on the above link to read the rest…