Home » Posts tagged 'Frexit'
Tag Archives:
Frexit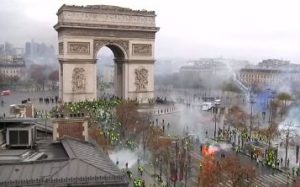 France is by no means calming down. There is a major underlying problem in France which is rising to the surface in direct confrontation with the government and Macron's ambition to lead Europe. Macron's confrontation with Trump over NATO is a reflection of a historical posture of the French government that has resented both Germany and the United States. Macron had said, "The Atlantic alliance can only be restored in one way, through restoring the unity of Europe." The twelve founding members set up a headquarters together for the first time in London in 1950.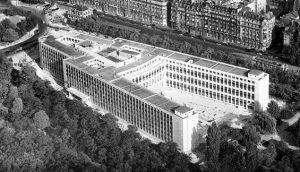 NATO Headquarters was located at 13, Belgrave Square. The last meeting to be held in London before the move to Paris was on April 1, 1952, which coincided with NATO's third anniversary. NATO was forced to move its headquarters from Paris, France (the A building for Alliance) following the French withdrawal from NATO, which then moved to Brussels 1967.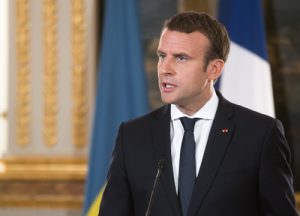 Macron did not advocate that France should pull out of NATO as was the case under  President de Gaulle. Indeed, de Gaulle did withdraw France from NATO's military structure in 1966, yet it remained an Ally. Macron has been also pushing for a European Army. Clearly, Macron's agenda has been to federalize Europe and that is clashing with the people. He is NOT a proponent in having the USA a major part of NATO according to reliable sources.
Macron has been pushing economic reforms to curtail the social benefits in France in his effort to federalize Europe. In protest of his planned reforms in the pension system, the unions have organized several general strikes, which are now being joined by the yellow vests. This has resulted in bringing in hundreds of thousands of protesters to the streets. The problem which Macron faces is that France's economic performance can no longer finance the generous welfare state which is far beyond international standards.
…click on the above link to read the rest of the article…
In a TV interview, Mr. Varoufakis said very clearly, "This is a very dark moment for Europe. They have closed our banks for the sole purpose of blackmailing what? Getting a 'Yes' vote on a non-sustainable solution that would be bad for Europe."
I must admit, most politicians do not come even close to the truth, but Varoufakis seems to be the ONLY finance minister who understands the demands of the Troika are not plausible for any nation. Merkel has tried to skirt any responsibility by saying this is a Troika decision. One must seriously ask, are those in the Troika just totally brain-dead? Their blackmail and economic war against Greece will be evidence to ensure that Britain leaves the EU. The ONLY thing that saved Britain was Maggie Thatcher's effort to keep Britain out of the euro for she knew far too well where it would lead. The view in Poland is also now anti-euro. Any Brit who now does not vote to get out of the EU and the grips of the Troika is ignorant of world events and the political power play going on.
The EU leaders will not travel to Athens until after the referendum. Suddenly they realize that their powers are so off the wall that they dare not expose their own schemes. Hollande of France wants a resolution for he fears a Frexit is gaining momentum. Obama wants a resolution, fearing Greece will be forced into the arms of Russia, breaking down NATO.
Yet through all of this, there is no hope because those in power are clueless. The Troika refuses to solve the euro crisis because they only see their own self-interest and assume they can force their will upon all the people. 
…click on the above link to read the rest of the article…