Even as "hedonic quality adjustments" perform miracles to repress surging new and used vehicle inflation.
Consumer price inflation, as measured by the Consumer Price Index, released this morning by the Bureau of Labor Statistics, jumped by 2.8% in May from a year ago, after having already jumped by 2.5% in April. It was the fastest year-over-year rise since February 2012: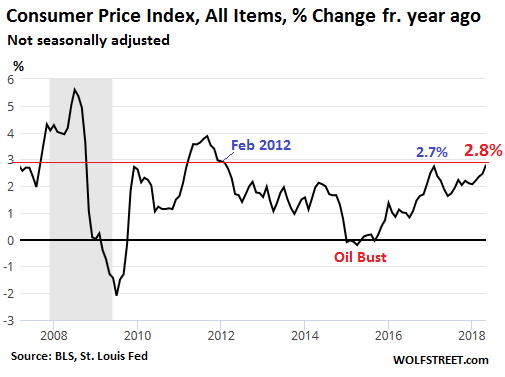 Inflation is just a nice way of saying that the dollar is losing its purchasing power, and that income earned in dollars is buying less and less, an experience consumers go through when they buy stuff. The purchasing power of the dollar dropped 2.93% in May from a year ago, the fastest drop since November 2011. The chart below shows the index of the dollar's swooning purchasing power: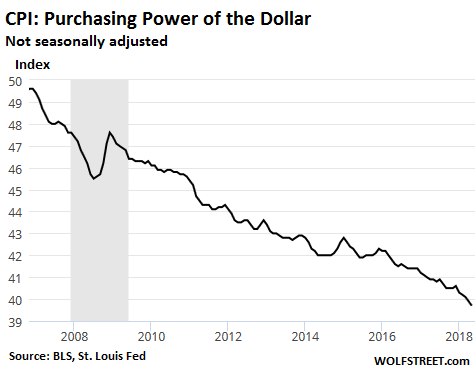 The CPI without food and energy rose 2.24% from a year ago, after having already risen 2.14% in April.
These year-over-year percentage changes in the Consumer Price Index are slower than what consumers experience in terms of actual price increases. Here are two big examples of how this discrepancy is happening: prices of used vehicles and new vehicles.
The CPI for used cars and trucks fell 1.7% in May from a year ago (not seasonally adjusted), according to the BLS. This index has been falling much of the time during the last decade with exception of the "Cash for Clunkers" period and its consequences, which took a whole generation of often perfectly good older cars off the road, and thus actually raised prices on what was left (the spike in this chart from 2010-2012):
The chart below shows the actual index of used car- and truck-price inflation over the decades. Note that this CPI for used vehicles in May is at the same level as in 1994:
…click on the above link to read the rest of the article…