Home » Posts tagged 'cdc'
Tag Archives:
cdc
Summary:
Scott Gottlieb explains the problem with Texas' response
Epidemiologists warn about threat of 'second wave'
Mumbai hospitals overwhelmed
Russia cases top 500k
Latin America death toll tops 80k
US projects nearly 200k COVID deaths by October
LA County still seeing ~1,300 new cases a day as reopening continues
* * *
Update (0720ET): Former FDA Commissioner and perennial "Squawk Box" guest Scott Gottlieb offered some commentary about the situation in Texas, explaining that characterizing this as a 'second wave' might be misleading since 'they never really got over the first'.
The fact that Texas hasn't traced the rising case numbers, which are overwhelmingly centered in the greater Houston area, to a specific source – like a meatpacking plant or something – worries Gottlieb, because that means the contact tracers in the state have failed at their basic mission: to find the source of any 'super-spreader' incidents quickly before they become 'super-duper spreaders'.
---
"It's not a second wave, they never really got rid of the first wave," says @ScottGottliebMD on #COVID19 outbreaks in Arizona, Texas, South Carolina and North Carolina. "The more concerning part is they haven't been able to isolate what the source of the infection is."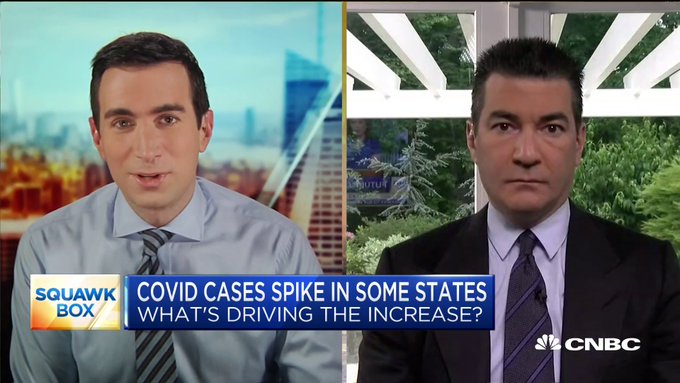 ---
Thanks for the comforting words, doc.
* * *
With futures pointing to a sharp drop at the open for the Dow, it appears investors are finally confronting signs of a second wave that have emerged both in the US, and around the world.
As one scientist who appeared on CNBC's Worldwide Exchange program Thursday morning claimed, signs of a genuine second wave have emerged around the world, including in Sweden and Iran. Fortunately, we haven't seen a sharp move higher in mortality alongside the surge in cases – but that could follow.
…click on the above link to read the rest of the article…