The era of the mighty U.S. major oil industry is coming to an end as the country's largest petroleum company is in big trouble.  While ExxonMobil has been the most profitable U.S. oil company in the past, it suffered its worst year on record.
For example, just four years ago, ExxonMobil enjoyed a $45 billion net income profit in 2012.  Now compare that to a total $5 billion net income gain for the first three-quarters of 2016.  If Exxon continues to report disappointing results for the remainder of the year, its net income will have declined a stunning 85% since 2012.
Actually, the situation at Exxon is much worse if we dig a little deeper.
profitability is much less when we factor in capital expenditures
To understand the real profitability of a company we have to look at its cash flow, or what is known as free cash flow.  Free cash flow is calculated by deducting capital expenditures (CAPEX) from the company's cash from operations.  ExxonMobil's free cash flow declined from $24.4 billion in 2011 to $1 billion for the first nine months of 2016: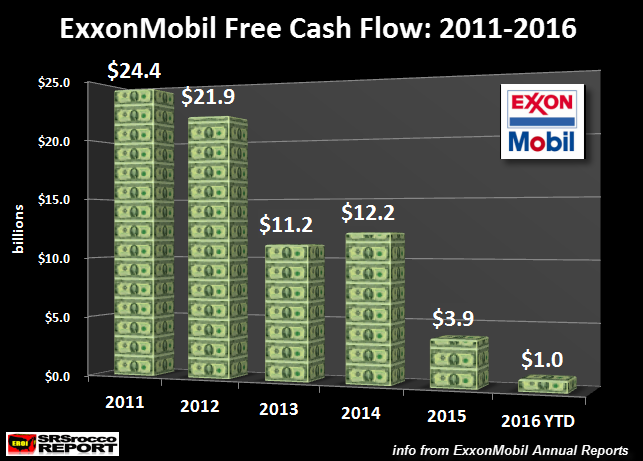 So, here we can see that Exxon's free cash flow of $1 billion (2016 YTD) is down 95% from $24.4 billion in 2011.  The reason for the rapidly falling free cash flow is due to skyrocketing capital expenditures and falling oil prices.  But, this is only part of the picture.
If we include dividend payouts, Exxon's financial situation drops down another notch.  While free cash flow does not include dividend payouts, the money Exxon pays its shareholders must come from its available cash.  By including dividend payouts, the company was $8.3 billion in the hole in 2015:
…click on the above link to read the rest of the article…