What caused the biggest jump since the Financial Crisis?
New Chapter 11 bankruptcies in the US more than doubled in December 2017 from a year ago to 699 filings. That jump of 362 filings from December 2016 was the largest year-over-year jump since the Financial Crisis.
This chart shows Chapter 11 filings back to 2011, based on data from the American Bankruptcy Institute. I marked the prior five Decembers with red dots. Note how they're near the low point of the seasonal swings. That makes the spike in December 2017 even more spectacular: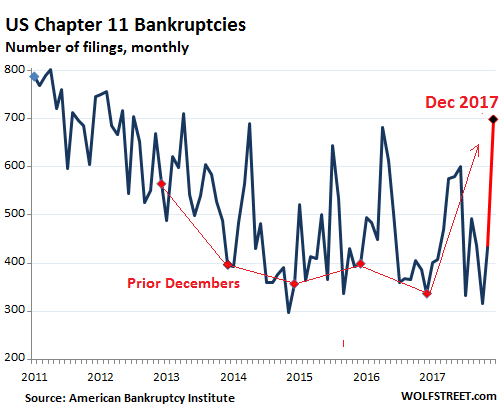 A spike like this in Chapter 11 filings in a month of December is unheard of in normal times. Normally, bankruptcies jump during tax season, the first four or five months of the year, but not at the end of the year. But these are not normal times.
In December, Chapter 11 filings soared 61% from November. This is also highly unusual, as over the prior five years, presumably the "normal times," the number of filings from November to December has fallen by an average 8.7%.
The chart below shows the year-over-year change in Chapter 11 filings. I marked the prior Decembers in yellow. I circled the oil bust and the brick-and-mortar meltdown. But December 2017 was special:
In a Chapter 11 bankruptcy, a company attempts to restructure its debts under the supervision of a judge, and in the process often transfers part or all of the ownership of the company from pre-bankruptcy shareholders to creditors. In many cases, shareholders lose everything, and some creditors too lose everything. But in the end, the hope is that the company can "emerge" from bankruptcy with less debt and keep going, with a reasonable chance the make it. So what is causing this brutal spike in December bankruptcies?
…click on the above link to read the rest of the article…