The Scholz caravan went to Beijing to lay down the preparatory steps for working out a peace deal with Russia, with China as privileged messenger…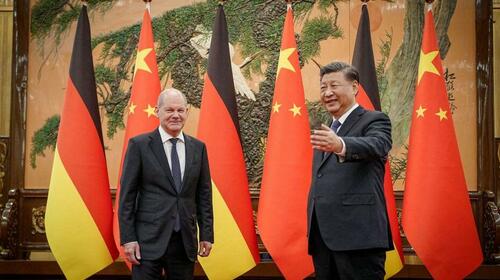 With his inimitable flair for economic analysis steeped in historical depth, Professor Michael Hudson's latest essay, originally written for a German audience, presents a stunning parallel between the Crusades and the current "rules-based international order" imposed by the Hegemon.
Professor Hudson details how the Papacy in Rome managed to lock up unipolar control over secular realms (rings a bell?) when the game was all about Papal precedence over kings, above all the German Holy Roman Emperors. As we know, half in jest, the Empire was not exactly Holy, nor German (perhaps a little Roman), and not even an Empire.
A clause in the Papal Dictates provided the Pope with the authority to excommunicate whomever was "not at peace with the Roman Church." Hudson sharply notes how US sanctions are the modern equivalent of excommunication.
Arguably there are Top Two dates in the whole process.
The first one would be the Third Ecumenical Council of 435: this is when only Rome (italics mine) was attributed universal authority (italics mine). Alexandria and Antioch, for instance, were limited to regional authority within the Roman Empire.
The other top date is 1054 – when Rome and Constantinople split for good. That is, the Roman Catholic Church split from Orthodoxy, which leads us to Russia, and Moscow as The Third Rome – and the centuries-old animosity of "the West" against Russia.
A State of Martial Law
Professor Hudson then delves on the trip by "Liver Sausage" Chancellor Scholz's delegation to China this week to "demand that it dismantle its public sector and stops subsidizing its economy, or else Germany and Europe will impose sanctions on trade with China."
…click on the above link to read the rest…