Britain has recorded one of its hottest and driest summers on record. Rivers and reservoirs are drying up as towns in the southern part of the country imposed the first hosepipe ban on Friday.
The country's record heat in July — above 104 Fahrenheit (40 degrees Celsius) — melted airport runways, buckled train tracks, and shuttered transportation networks, as London's fire brigade said it had one of the busiest days since World War II. The heat dome resulted in dozens of building structure fires and wildfires.
As of 1700 local time Friday, Hampshire and the Isle of Wight residents will be placed under emergency water restrictions called "temporary use ban." If residents water their gardens, yards, and/or clean their vehicles, they could face a stiff penalty of up to $1,200 (£1,000). A similar ban will go into effect for residents in Kent and Sussex from Aug. 12.
"Months of sparse rainfall, combined with record-breaking temperatures in July, have left rivers at exceptionally low levels, depleted reservoirs and dried-out soils," British newspaper The Independent wrote.
London dodged the water restrictions for now as its large reservoirs are at "very comfortable levels," Barnaby Dobson, a research associate on the Community Water Management for a Liveable London project at Imperial College London, told Bloomberg.
However, water reservoirs in London could slump as the metro area faces levels of drought not seen in a decade.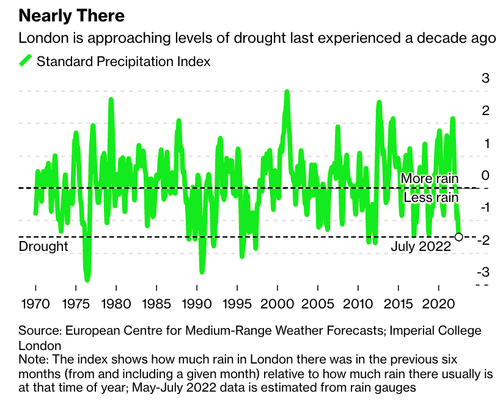 Dobson said rationing is a measure of last resort and would come after hosepipe bans. He said water utilities are very wary of implementing water rationings because it would trigger consumer backlash.
…click on the above link to read the rest of the article…