Housing craziness is front and center.
The Bank of Canada, which already holds over 40% of all outstanding Government of Canada (GoC) bonds – compared to the Fed, which holds less than 18% of all outstanding US Treasury securities – announced today that it would reduce by one-quarter the amount of GoC bonds it adds to its pile, from C$4 billion per week currently, to C$3 billion per week beginning April 26.
In its statement, it pointed at the craziness in the Canadian housing market – "we are seeing some signs of extrapolative expectations and speculative behavior," it said.
Back in October, the BoC made the first reduction, tapering purchases of GoC bonds from C$5 billion per week to C$4 billion, and it had stopped adding mortgage-backed securities, of which it had never bought many to begin with.
In March, the BoC announced that it would unwind its liquidity facilities, thereby reducing its total assets by about 17%, from C$575 billion at the time, to C$475 billion by the end of April. And this has progressed as planned.
The BoC cited "moral hazard" associated with this central bank craziness as one of the reasons for the unwinding of its liquidity facilities, what are now mostly repurchase agreements (repos) and short-term Government of Canada Treasury bills. Its total assets dropped by 13% over the past month, to C$501 billion on its most recent balance sheet through the week April 14: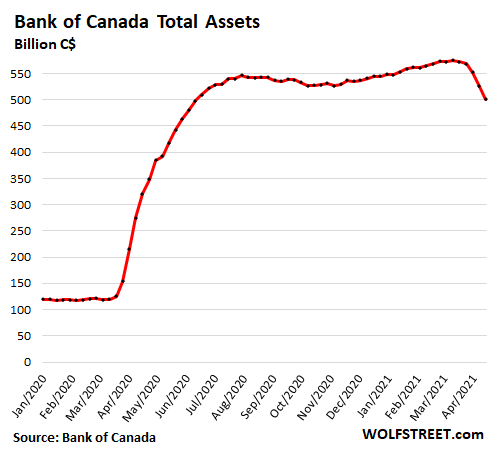 The total amount of the assets has declined because the BoC is unwinding its liquidity facilities. The largest remaining categories are the term repos and the short-term Treasury bills. As they mature, the BoC gets its money back, but doesn't replace those securities, and the balance declines…
…click on the above link to read the rest of the article…