Rates for trucking, ocean containers, airfreight, parcels, you name it, the costs for shipping consumer & industrial goods are surging.
The dollar-amount spent by shippers, such as manufacturers or retailers, on shipping their goods jumped by 13% in December from a year earlier, driving the Cass Freight Index of Expenditures to a new record (red line). The amount spent on freight is a function of shipment volume and freight rates: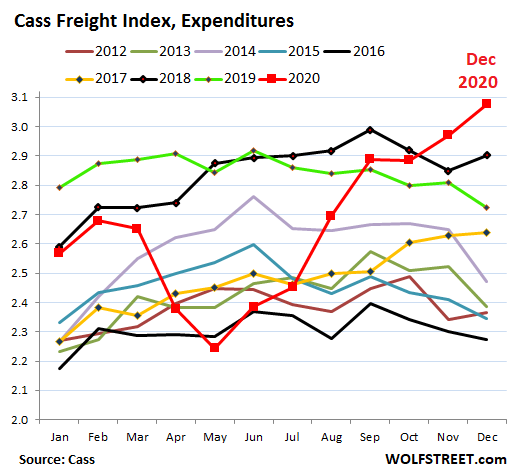 The Cass Freight Index covers shipments by all modes of transportation, but is heavily concentrated on shipments by truck, with truckload accounting for over half of the expenditures, followed by less-than-truckload (LTL), rail, parcel services, etc. It does not cover commodities.
The freight rates embedded in the index jumped by 6.0% in December compared to a year earlier. "Based in part on spot trends, the acceleration in freight rates is likely to persist in the coming months," Cass said in the report.
Shipment volume surged 6.7% year-over-year, given the Pandemic shift in consumer spending to goods that need to be shipped, from services that are not shipped. But shipment volume in December (red line in the chart below) remained below the levels of 2018 (black) and 2017 (brown) at this time of the year: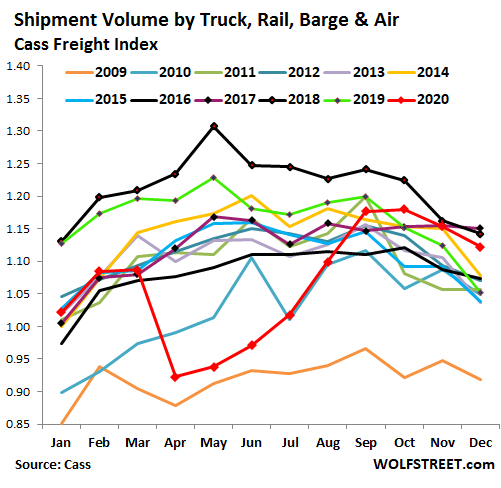 While Americans have cut back buying services, and spending on services remains sharply lower year-over year, they have been buying all kinds of goods, and many categories in record quantities, to where periodic supply shortages have cropped up here and there since March, ranging from hot-tubs to low-end laptops.
Retail sales (goods) in December rose by 4.8% from a year earlier to a record $620 billion ("not seasonally adjusted," red line in the chart below). Everyone got sidetracked by the dip in "seasonally adjusted" retail sales. That dip was likely due to seasonal adjustments that had gone awry, particularly for ecommerce, due to the massive distortions in spending during the Pandemic:
…click on the above link to read the rest of the article…