US National Debt Spiked by $1 trillion in 5 weeks to $26 trillion. Fed monetized 65%. Business debts spike to high heaven.
Trillions are now whooshing by at a breath-taking pace. The US gross national debt – the total of all Treasury securities outstanding – jumped by $1 trillion over the past five weeks, from May 4 through June 8, and by $2.5 trillion for the 11 weeks since March 23.
The total US national debt outstanding has reached $26 trillion, according to the Treasury Department. I've been fretting about this debt on my site since 2011. In recent years, I innocently added a green upward arrow with "Debt out the wazoo" to my gross-national-debt charts, unaware that this tongue-in-cheek label would turn into a factual, data-based technical term: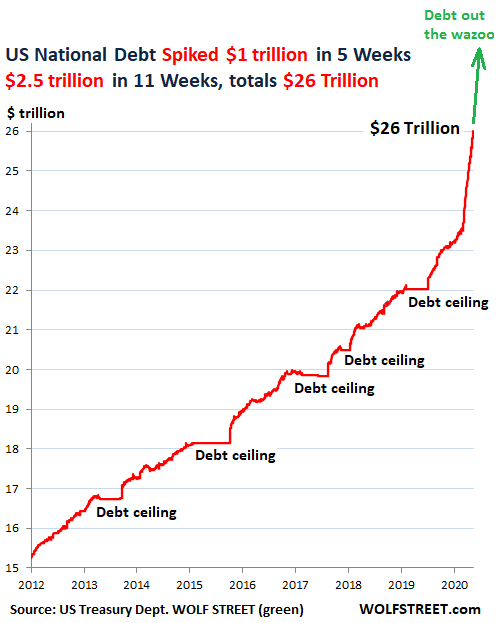 And think about this: The huge mountain of debt that took decades to grow to this gargantuan size has exploded by another 10% in just 11 weeks.
The curious flat spots in the chart are the periods when the national debt bounced into the Congress-imposed debt ceiling. During these periods, the government borrowed from federal pension funds and other internal sources – the "extraordinary measures" – to make ends meet, thereby continuing to borrow, and when the political charade was resolved and the debt ceiling was raised, bam, the debt jumped by hundreds of billions in weeks. Now the debt jumps by the trillions in weeks on a routine basis.
On February 19, when the debt had soared by $1.3 trillion in 12 months to $23.3 trillion, I mused: "But these are the good times. And we don't even want to know what this will look like during the next economic downturn."
Turns out, we didn't get a regular economic downturn. We got the most epic and sudden economic downturn ever. And now we're beginning to know what this looks like in terms of the US debt.
Fed monetizes 65% of the additional debt.
…click on the above link to read the rest of the article…