Back in the days of the Fed's QE, much of thinking analyst world (the non-thinking segment would merely accept everything that the Fed did without question, after all their livelihood depended on it), was focused on how massive, and shocking, the Fed's direct intervention in capital markets had become. And while that was certainly true, what we showed back in November 2013 in "Chart Of The Day: How China's Stunning $15 Trillion In New Liquidity Blew Bernanke's QE Out Of The Water" is that whereas the Fed had injected some $2.5 trillion in liquidity in the US banking system, China had blown the US central bank out of the water, with no less than $15 trillion in increases to Chinese bank assets, all at the behest of a juggernaut of new credit creation – be it new yuan loans, shadow debt, corporate bonds, or any other form of debt that makes up China's broad Total Social Financing aggregate.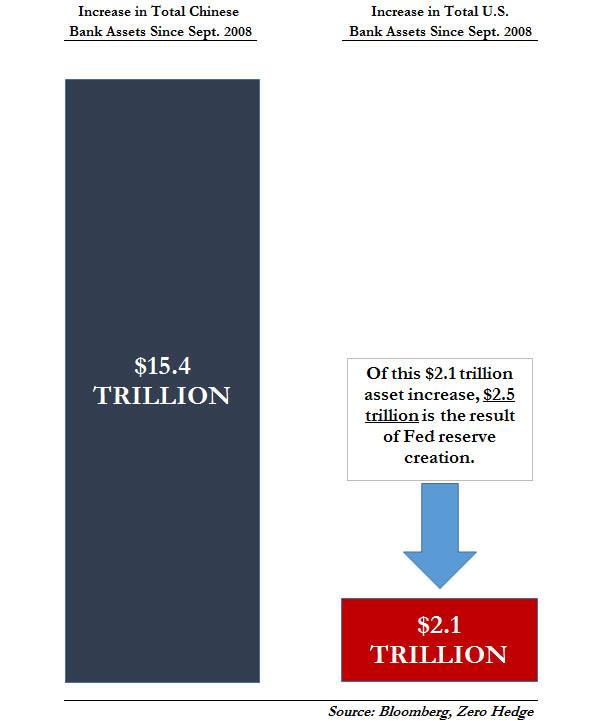 Now, almost six years later, others are starting to figure out what we meant, and in an Op-Ed in the FT, Arthur Budaghyan, chief EM strategist at BCA Research writes about this all important topic of China's "helicopter" money – which far more than the Fed, ECB and BOJ – has kept the world from sliding into a depression, and yet is blowing the world's biggest asset bubble.
Budaghyan picks up where we left off, and notes that over the past decade, Chinese banks have been on a credit and money creation binge, and have created RMB144Tn ($21Tn) of new money since 2009, more than twice the amount of money supply created in the US, the eurozone and Japan combined over the same period. In total, China's money supply stands at Rmb192tn, equivalent to $28 TRILLION. Why does this matter?
…click on the above link to read the rest of the article…