"Russia is now so deeply invested in the Maduro regime that the only realistic option is to double down," writes senior fellow at the Carnegie Moscow Center Alexander Gabuev.
He details in a Financial Times op-ed that Moscow-based state oil giant Rosneft owns two offshore gas fields in Venezuela and further has "stakes in assets boasting more than 20m tonnes of crude." But as embattled President Nicolas Maduro faces US-led efforts to oust him in favor of opposition leader Juan Guaido, billions are on the line for Moscow making its interest in preserving the regime run deep.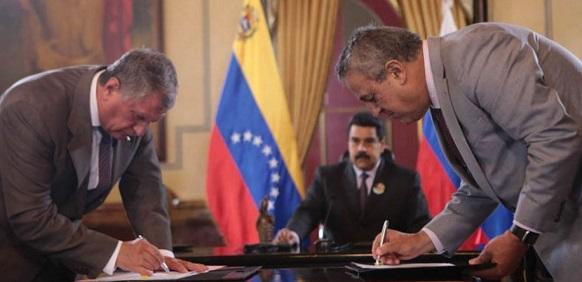 In total Caracas owes Rosneft $3 billion, according to Gabuev, which could lead to "a new sort of proxy conflict in America's backyard," which is at once economic, political, and could increasingly turn to proxy military intervention. Indeed the Kremlin has already accused the US of "meddling" in the affairs of a sovereign country in order to foster a "slow motion coup".
"Any solution to the internal political crisis in Venezuela is possible only by Venezuelans themselves," Kremlin spokesman Dmitry Peskov said on Monday. "Imposing any solutions or efforts aimed at legitimizing the attempt of usurping power is, in our view, just direct and indirect meddling in Venezuela's internal affairs," Peskov said.
"This does not contribute in any way to the peaceful, effective and vital settlement to the crisis, which Venezuelans are enduring and who should, as we believe, pull through it on their own," the Kremlin spokesman noted.
…click on the above link to read the rest of the article…