The QE unwind has started to rattle some nerves.
For the past two months, the sound of wailing and gnashing of teeth about the Fed's QE unwind has been deafening. The Fed started the QE unwind in October 2017. As I covered it on a monthly basis, my ruminations on how it would unwind part of the asset-price inflation and Bernanke's "wealth effect" that had resulted from QE were frequently pooh-poohed. They said that the truly glacial pace of the QE unwind was too slow to make any difference; that QE had just been a "book-keeping entry," and that therefore the QE unwind would also be just a book-keeping entry; that QE had never caused any kind of asset price inflation in the first place, and that therefore the QE unwind would not reverse that asset-price inflation, or whatever.
But in October last year, when all kinds of markets started reversing this asset price inflation, suddenly, the QE unwind got blamed, and the Fed – particularly Fed Chairman Jerome Powell – has been put under intense pressure to cut it out. Yet it continues: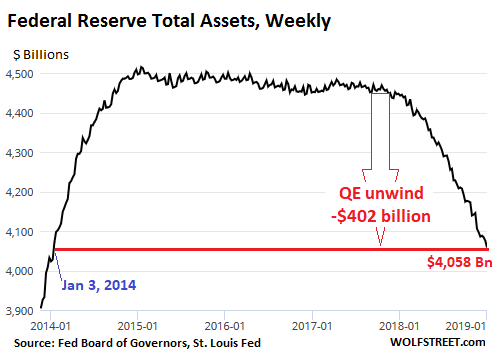 The Fed shed $28 billion in assets over the four weekly balance-sheet periods of December. This reduced the assets on its balance sheet to $4,058 billion, the lowest since January 08, 2014, according to the Fed's balance sheet for the week ended January 3. Since the beginning of this "balance sheet normalization," the Fed has now shed $402 billion.
According to the Fed's plan released when the QE unwind was introduced, the Fed is scheduled to shed "up to" $30 billion in Treasuries and "up to" $20 billion in MBS a month – now that the QE unwind has reached cruising speed – for a total of "up to" $50 billion a month. So how did it go in December?
Treasury Securities
…click on the above link to read the rest of the article…