Home » Posts tagged 'vaccination mandates'
Tag Archives:
vaccination mandates
AP News calls them "far-right," but tens of thousands of freedom-loving people marched against new tyrannical public health measures, such as partial and full lockdowns and health passports and mandatory vaccinations, across Europe.
Demonstrations against new virus restrictions were observed in Austria, Croatia, Italy, Northern Ireland, the UK, France, Germany, and the Netherlands. Outside of Europe, protesters were seen in several cities across Canada, Australia, Japan, and even the US. Some marked Saturday as part of a "Worldwide Freedom" rally to protest COVID-19 restrictions and vaccine mandates.
Some of the most intense rallies, which turned into riots, were in the port city of Rotterdam. Clashes between protesters and police began Friday and continued through Saturday night.
About 30 minutes away, protests transformed into riots in Hague.
Protesters across many European cities shared commonalities as they marched to preserve their lives and liberty. Governments are attempting to plunder that via increased COVID restrictions, mandatory health passports, and forced vaccinations.
The worst of restrictions, or rather the government's plundering of liberties, was in Austria, where full lockdowns begin Monday. Nationwide lockdowns are expected for at least ten days but can be extended to more than two weeks. Then by Feb. 1, the government will make vaccinations mandatory (only 66% of Austria's 8.9 million people are fully vaccinated). Good luck with that one.
…click on the above link to read the rest of the article…
Update (19115ET): Anti-lockdown protests kicked into high gear around the globe on Saturday, including irate Irish protesters:
Bitter Brits:
Pissed-off Parisians:
And incensed Italians, where the country has restricted public access to restaurants and museums to the unvaccinated.
This is what it looked like today in Australia, Milan, London, and France.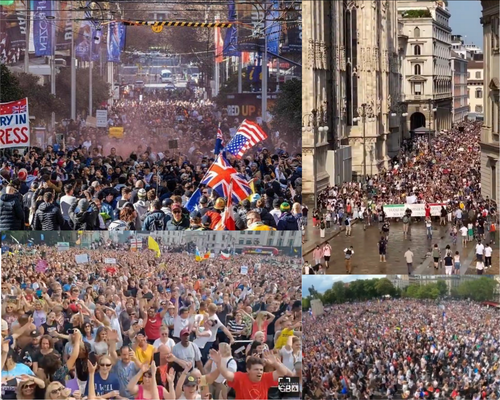 Protests were worldwide today as many are fed up with elites whittling away their freedoms under the guise of COVID.
*  *  *
Thousands of anti-lockdown demonstrators took to the streets of Sydney and other Australian towns on Saturday to protest new lockdown measures amid a surge of COVID-19 cases in the country.
Dozens were arrested and charged after crowds broke through barriers and clashed with officers, hurling bottles and anything they could get their hands on.
The unmasked protesters marched from Sydney's Victoria Park to Town Hall. News.com.au estimates 15,000 people took part in the march. Many chanted anti-lockdown slogans and held signs calling for "freedom" and "the truth."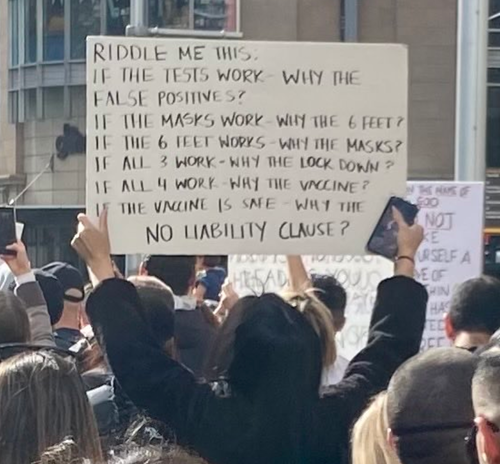 Footage on social media shows thousands of demonstrators marching through Sydney's downtown area.
There was a significant police presence, including mounted police and riot control officers in response to what authorities said was an "unauthorized protest."
…click on the above link to read the rest of the article…