Puerto Rico's power grid was hit by a devastating fire at one of the largest power plants on the island that triggered widespread blackouts, according to Bloomberg.
On Wednesday night, the outage began when a fire broke out at the Costa Sur power plant in the island's southwest region, Puerto Rican utility company LUMA Energy said.
The Puerto Rico Electric Power Authority (PREPA) tweeted a video of one of the power plant's generator circuit breakers erupting in flames, shooting fireballs into the night sky.
"The power grid has suffered a massive island-wide blackout, potentially caused by a circuit breaker failure at the Costa Sur generation plant," LUMA officials said Wednesday night. The fire was extinguished hours later.
Gov. Pedro Pierluisi urged Puerto Ricans "to remain calm." According to PowerOutage, as many as 438k out of 1.468 million customers tracked are without power as of 0900 ET.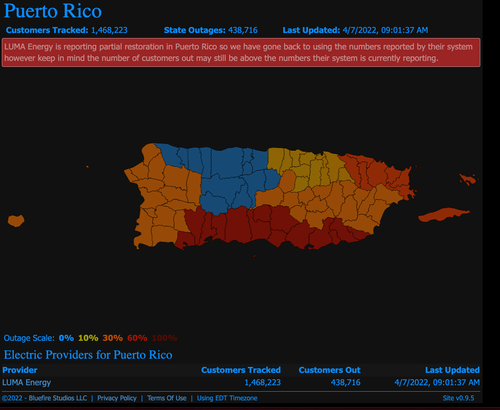 In recent months, the outage was one of the biggest for the island's deteriorating electrical grid, which has seen frequent rolling blackouts grow worse by the year.
Meanwhile, Puerto Rico exited bankruptcy last month, but PREPA remains buried in insurmountable debt, totaling around $9bln.