Firms including Woodside, Chevron, Shell and Exxon Mobil, told they could be downgraded within weeks.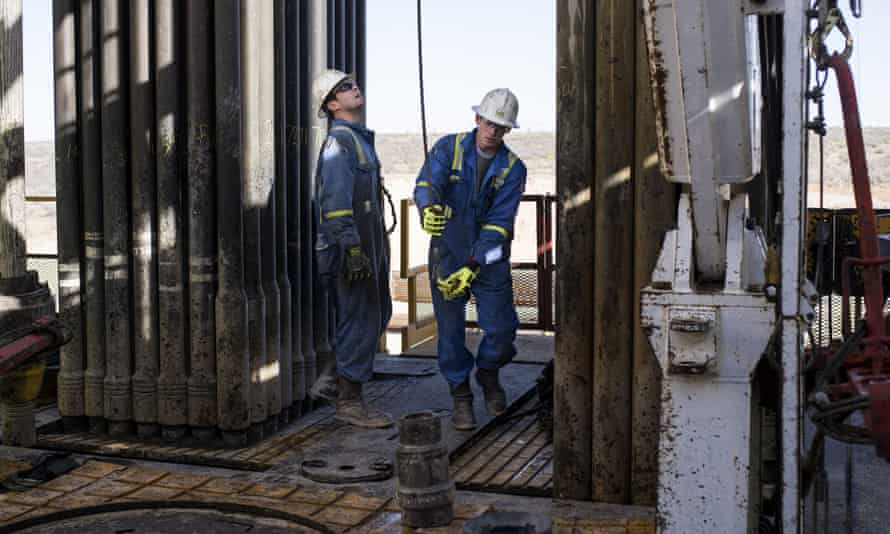 Royal Dutch Shell rig operators in Texas. Oil and gas companies have been told they could be downgraded between one and two notches as S&P increases risk rating for the entire sector. Photograph: Bloomberg/Getty Images
Rating agency S&P has warned 13 oil and gas companies, including the some of the world's biggest, that it may downgrade them within weeks because of increasing competition from renewable energy.
On notice of a possible downgrade are Australia's Woodside Petroleum as well as multinationals Chevron, Exxon Mobil, Imperial Oil, Royal Dutch Shell, Shell Energy North America, Canadian Natural Resources, ConocoPhillips and French group Total.
S&P said it was also considering downgrading four large Chinese producers – China Petrochemical Corp, China Petroleum & Chemical Corp, China National Offshore Oil Corp and CNOOC.
The rating agency said it had increased its risk rating for the entire oil and gas sector from "intermediate" to "moderately high" because due to the move away from fossil fuels, poor profitability and volatile prices.
It said it also had a negative outlook for two other big oil and gas companies, British multinational BP and Canadian group Suncor, but did not plan to immediately reassess their credit ratings.
"In particular, we note significant challenges and uncertainties engendered by the energy transition, including market declines due to growth of renewables; pressures on profitability, specifically return on capital, as a result of high dollar capital investment levels over 2005-2015 and lower average oil and gas prices since 2014; and recent and potential oil and gas price volatility," S&P said on Wednesday.
…click on the above link to read the rest of the article…